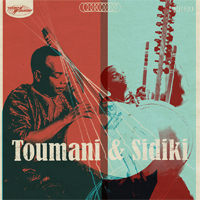 Toumani Diabaté, one of the greatest living kora players, has recorded an album of duets with his son Sidiki, an emerging kora virtuoso. The album is scheduled for release on 5 May 2014 on CD, LP and download.
'Toumani & Sidiki' is a dialog performed through the kora, the 21-string West African harp that the Diabaté dynasty has elevated into the most iconic of African instruments. Toumani and Sidiki Diabaté are descended from a line of griots – custodians of the ancient oral traditions of West Africa's Mandé people stretching back seven hundred years. The names Toumani and Sidiki are significant names in the annals of West African music.
Toumani's father, Sidiki senior, recorded the first ever kora album, the classic Mali: Ancient Strings, in 1970. Toumani has taken it further, weaving together bass lines, ancient melodies and astounding improvisations to create a complex pattern of musical colors. Since recording the first solo kora album in 1988, Toumani has brought the instrument to the world, with albums, tours, GRAMMY awards and collaborations with the likes of Ali Farka Touré, Taj Mahal, Herbie Hancock, Ketama, Damon Albarn and Bjork. Toumani has also built an impressive array of fans along the way, including President Barack Obama, who chose Kulanjan, Toumani's collaboration with Taj Mahal as his all-time favorite album.
Toumani's eldest son Sidiki is well-known in Mali's capital Bamako. The 23 year old Sidiki runs his own recording and programming studio and alongside rapper 'Iba One' is one half of the country's leading hip-hop duo. At the same time he has a deep knowledge of Mande culture and a formidable technique on the kora. "It's a dream to play with my father" he says. "Yes I'm a hip-hop artist, but I love and respect my roots as a kora player, I want to know more. It's my chance to learn directly from my father. It's extra special because my father is my idol."
The album arrives in the wake of the recent hardline Islamic insurgency where a ban on music was attempted in the north of Mali. With this album Toumani wanted "to show the positive side of Mali", to reaffirm the legacy of a country with access to innumerable musical riches. The songs are named, in griot tradition, to honor various people, places or events.
European Tour Dates
20 May / Theatre Royal "Brighton Festival" / BRIGHTON
22 May / Theatre Royal "Norfolk & Norwich Festival" / NORWICH
24 May / Royal Northern College of Music / MANCHESTER
25 May / "Hay Festival" / HAY-ON-WYE
26 May / St George's Bristol / BRISTOL
27 May / St. George's Hall Concert Room / LIVERPOOL
29 May / Usher Hall / EDINBURGH
30 May / Barbican / LONDON
01 Jun / Warwick Arts Centre / COVENTRY
05 Jun / The Stables / MILTON KEYNES
06 Jun / Howard Assembly Room / LEEDS
07 Jun / National Concert Hall "Waltons World Masters" / DUBLIN
10 Jun / Bouffes du Nord / PARIS
Buy Toumani & Sidiki
Author:
World Music Central News Department
World music news from the editors at World Music Central