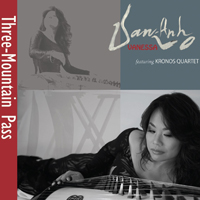 One joy of being a world music head is discovering the many and varied instruments that are used to make music around the globe. Yes, "discovering" is too lofty a word for what's new to me but old hat to countless people from another culture. Still, coming across the sound of an instrument that I'd previously never heard or never listened to closely is reason to celebrate.
Vietnam's Van-Anh Vanessa Vo demonstrates astounding proficiency on the danTranh, a 16-string zither that bends and shapes notes in a manner similar to the Japanese koto, and the monochord danBau. Her album Three-Mountain Pass (Innova, 2013) is a fully realized traditional/classical/avant garde trifecta of solo and group pieces that unveil the possibilities of her chosen instruments boldly and beautifully, matching the virtuosity of the Kronos Quartet at one turn and the thunder of Japanese taiko drumming at another. With source material ranging from 18th century Vietnamese poetry to contemporary French minimalism, the music sends your mind to places it's never been and will long to revisit. And prepare yourself for the best recorded use of the hang drum thus far. (www.vananhvo.com)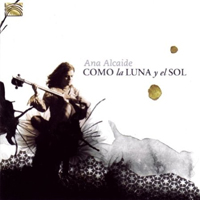 Here's an idea: Spanish Sephardic music that uses the Swedish nyckelharpa (a keyed fiddle) as the primary lead instrument. Toledo-based Ana Alcaide pulls it off with a passion on Como la Luna y el Sol (ARC Music, 2013, originally released in Spain in 2008). Drawing upon musical traditions from Turkey, Bulgaria, Greece, Morocco and the Orient and filtering them through a pre-1492 Jewish sensibility, Alcaide puts her unique spin on songs that dance and dream their way along a journey of achingly gorgeous melodies, rhythmic subtleties and visionary innovation that incorporates instruments from various locales (saz, sitar, bansuri, kalimba, etc.).
Excelling as both a player and a singer, Alcaide is in stunning form on this gem. International edition of the album available here: Como la Luna y el Sol. Spanish edition of the album available here: Como la Luna y el Sol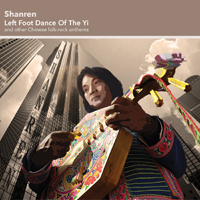 While I'm not the rock and roller I used to be, I can appreciate the rebel rock spirit that spills forth from Left Foot Dance of the Yi (Riverboat Records/World Music Network, 2014), the international debut of the band Shanren from China's mountainous southwestern region. The group's members began listening to imported rock and roll when it was still contraband, and a spin of their album shows that they've absorbed a thing or two from other genres. But they keep it real in their own way, melding Chinese tradition with thumping rhythms and lively vocals.
The Jamaican-flavored "Thirty Years" and "The Crab" are catchy and surprising, as are the bluegrass-like title track and "Song of the Wa," which sounds as if it came from a remote village that just latched on to hip hop. Such Western instruments as guitar and bass are heard in the arrangements, but it's the prominence given to four and three-stringed lutes (xianzi and qinqin) and indigenous flute that fit the bill and make the disc a quirky, enjoyable one.
Also built on a foundation of Chinese tradition, Orchid Ensemble takes the two-stringed fiddle known as the erhu, mixes it with the zheng (a movable-bridge zither) and then goes a bit wild card by adding marimba and other risky percussion to the mix that comprises Life Death Tears Dream (self-released, 2013). Though some of the pieces meander a bit, the threesome comes up with truly spine-tingling stuff including the hypnotically spectral title track and lengthy conclusion of "Ghostly Moon," seamlessly straddling the ancient and the modern. Challenging, but definitely rewarding.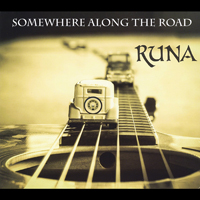 Okay, the mandolin isn't as obscure as the other instruments I've indiscriminately lumped together here, but a good reminder of its once-exotic status can be heard on Runa's latest, Somewhere Along the Road (self-released, 2012). Besides, it isn't just the instruments that matter; the way they're used matters also. And while the music of Runa is identifiably Celtic, their use of non-Celtic percussion is refreshing, as are the jazz and Americana leanings in their re-configured traditional tunes that also make good use of guitar, fiddle, bodhran and uillean pipes. Not sure how this very fine CD escaped my notice at first, but I'm highly recommending it now.
Author:
Tom Orr
Tom Orr is a California-based writer whose talent and mental stability are of an equally questionable nature. His hobbies include ignoring trends, striking dramatic poses in front of his ever-tolerant wife and watching helplessly as his kids surpass him in all desirable traits.