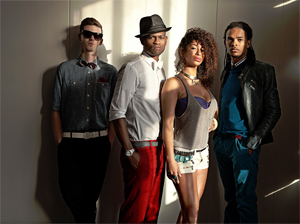 Publicity firm Rock Paper Scissors will be presenting its first showcase at the influential South by Southwest (SXSW) conference. The concerts will take place March 15, 2014 at Russian House, located at 307 E 5th in Austin (Texas).
The lineup includes:
A Tribe Called Red: Self-proclaimed "Concrete Indians" from Canada's urban Aboriginal music scene, this trio of DJs, producers, and visual artists hit hard, while skewering cliched views of Native culture.
KiT (Kuenta I Tambu): Inspired by Afrodiasporic ritual drum and song from the island of Curacao, this Dutch group effortlessly incorporates the beats and bubbles of The Netherland's club scene. Recordings: Tambutronic (Jiga Musica, 2014)
Kumbia Queers: Mexican and Argentine girls go wild for the rolling, bouncing cumbia, in all its genre-bending electro and acoustic glory. recordings: Pecados Tropicales, Gran Estafa Del Tropipunk
Dudu Tassa and the Al-Kuwaitis: Israeli pop star gets gritty after discovering and revamping his Iraqi Jewish grandfather's big hits. Rock drive with Middle Eastern vibes. Recordings: Dudu Tassa & The Kuwaitis
Taj Weekes & Adowa: Lush reggae with serious soul from St. Lucia, a little-known outpost of Caribbean sounds, led by Weekes' crystal-clear voice and fervent messages of inclusion regardless of gender and sexual orientation, his calls for children's rights, and for unity. Recordings: Pariah in Transit, A Waterlogged Soul Kitchen, Hope and Doubt and Deidem.
TriBeCaStan: This lower-Manhattan band of a thousand instruments can move from stately and complex to wacky and out there, in the space of a few bars of 11. Recordings: New Songs from the Old Country, New Deli, Strange Cousin
Show Times:
8 PM TriBeCaStan
9 PM Taj Weekes & Adowa
10 PM Dudu Tassa and the Al-Kuwaitis
11 PM Kumbia Queers
12 AM KiT
1 AM A Tribe Called Red
Author:
World Music Central News Department
World music news from the editors at World Music Central