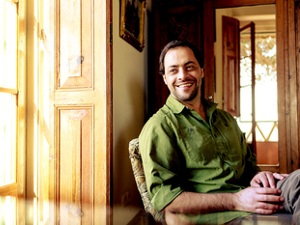 One of the great voices in the current fado scene António Zambujo is set to perform on Saturday, February 8, 2014 at 8:30 p.m. at Zankel Hall in New York City. Zambujo is the leading voice in the revival of male fado singers. He will bring his distinctive style which merges traditional fado with cante alentejano and Brazilian popular music.
Zambujo is known for pushing Portugal's folk music tradition into the contemporary, and it is his love for tradition together with his will to innovate the popular classic style that distinguishes him from other fado singers. His earthy songs, sensitive interpretations, and arrangements often incorporate elements of bossa nova, M.P.B. (música popular brasileira), and jazz, and feature clarinet and cavaquinho led by acoustic bass and guitar.
António Zambujo was born in Beja, in the south-central Alentejo region of Portugal. He grew up listening to the cante alentejano that would later influence his musical education. He began studying the clarinet at the age of eight, but fell in love with fado by listening to artists like Amália Rodrigues, Maria Teresa de Noronha, Alfredo Marceneiro, João and Ferreira Rosa among others. Though he usually only sang in the company of his family and friends, he won a regional fado contest as a teenager, and, having completed his clarinet studies, moved to Lisbon where he met renowned Portuguese guitar player and composer Mário Pacheco who immediately added him to his ensemble at the prestigious Clube do Fado in Alfama.
After auditioning for the musical Amália (a play about the life and times of the fado legend Amalia Rodrigues), directed by Filipe La Féria, Zambujo was added to the production playing the part of Francisco Cruz, Amália's first husband for four years in the staged version as well as for the subsequent national tour.
Zambujo recorded his first album O mesmo fado in 2002. He won the prestigious Radio Nova FM prize for the Best New Fado Voice and the Amália Rodrigues Foundation's Award for Best Male Fado Singer. He has recorded four additional albums, Por meu cante (2004); Outro Sentido (2007) and Guia (2010), which are all available in the US on the World Village label. Zambujo's latest album, Quinto was released in 2012 by Universal Music Portugal.
Author:
World Music Central News Department
World music news from the editors at World Music Central