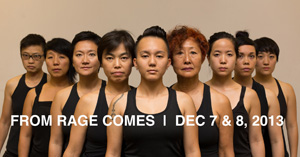 The Raging Asian Women Taiko Drummers will present their show From Rage Comes on December 7 and 8, 2013 at Betty Oliphant Theatre in Toronto. The concert rooted in taiko drumming will present the truths of diasporic Asian-Canadian women through original and traditional compositions, movement, and storytelling.
From Rage Comes will bring together stories of transplantation, rituals of establishing home, chronicles of their fights and flights, and the countless movements they make and are moved by every day.
Raging Asian Women Taiko Drummers (RAW) is a community arts collective of East and Southeast Asian women in Toronto. "We are a taiko drumming group that exists as a critical response and challenge to both systemic and internalized oppressions. Through performance, education, and community outreach, we seek to challenge, redefine and represent ourselves, and to inspire ourselves and others. Through collective membership, artistic creation, and active development, we carve space for self-expression, authentic engagement, community, and healing."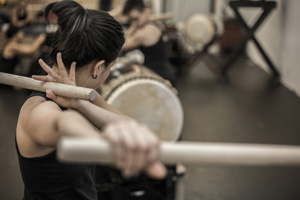 RAW was formed in 1998 as one of the only all-women taiko groups in North America, by three former members of Wasabi Daiko. The drummers include Karen B K Chan, Virginia Hung, Miki Kato, Christine Kim, Florence Li, Amy Lin, Catherine Loa, Isabel Nguyen, Annika Ollner, Young Park, and Izumi Sakamoto.
RAW has played at a wide range of events including Pride celebrations in Toronto and Buffalo New York, Dim Sum Chinese Festival as part of Harbourfront Centre's World Routes Summer Festivals, Muhtadi International Drumming Festival in Toronto and Tobago, Mayworks Festival of Working People and the Arts, Toronto's WinterCity Festival, Labor union conventions, International Women's Day events, art festivals, and social justice events.
RAW's current drums were built during the summer of 2004 by its members, using resources and wine barrels generously donated by Jim Hedges, co-owner of Canadian Oak, a small wine barrel company run out of a farm in St. George, Ontario where RAW members spent many weekends building drums.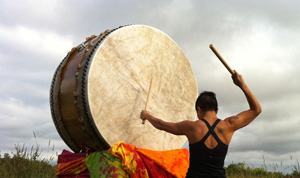 Since its foundation in 1998, RAW has fundamentally been a self-taught group, with senior members passing on knowledge to newer members, and with each member collectively supporting each other's learning. RAW members have also added skills through workshops and lessons with Yoshikazu Fujimoto, Masami Miyazaki and Eiichi Saito (of KODO), Ryutaro Kaneko (formerly of KODO), Kiyoshi Nagata and Aki Takahashi (of Nagata Shachu), Roy and PJ Hirabayashi (of San Jose Taiko), Tiffany Tamarabuchi (of Sacramento Taiko Dan), and Megan Chao Smith (formerly of Shidara).
Over the last few years, RAW has expanded its community and educational outreach, doing residencies at various Toronto schools, workshops series with the Queer Asian Youth, as well as offering introductory taiko workshop to the public. RAW is unique in the taiko community in that the group is a strong advocate for the queer community and providing women-safe environment at its performances and workshops.
In July of 2012, RAW took on its most ambitious project to date: organizing the first Toronto Taiko Festival. The event featured 3 days of workshops, panel discussion, and a public concert.
December 7 (8pm), 2013
December 8 (2pm), 2013
Betty Oliphant Theatre
404 Jarvis Street
$25 regular / $15 student & seniors & underwaged
Tickets online: http://www.brownpapertickets.com/event/495676
OR through RAW members & apprentices
More about the group at http://www.ragingasianwomen.ca
Author:
World Music Central News Department
World music news from the editors at World Music Central