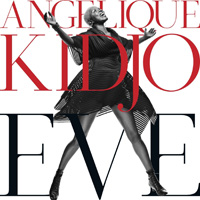 Angelique Kidjo
Eve (429 Records, 2014)
With recordings like Oremi, Black Ivory Soul, Djin Djin, Oyo and Spirit Rising to her credit, as well as a wealth of tours, special performances and commitment to social advocacy, Angelique Kidjo is set to dazzle on her latest release Eve on January 28th on the 429 Records label, part of the Savoy Label Group. Dedicating this recording to the women of Africa, Ms. Kidjo extends her artistry to speaking up and singing out in celebration of women's lives of her native Benin and all across the African continent.
Ms. Kidjo says, "My goal is to offer a perspective on Africa that is different from the miserable one so many people seem to accept as fact. Eve is all about showcasing the positivity they bring to their villages, cities, culture and the world."
Writing many of the tracks on Eve with the help of Jean Hebrail and pooling a stellar lineup of guest artists like guitarist and keyboardist Rostam Batmanglij, pianist Dr. John, the Kronos Quartet, the Luxembourg Philharmonic Orchestra and her own mother for vocals on the track "Bana," Ms. Kidjo goes one step further with the inclusion of the singing styles of ten women's choirs from Kenya and Benin as backing vocals.
"I've spoken for many years about the beauty of African women, and I don't need to talk anymore about it because on this recording I am letting the voices of the women show their beauty to the world," Ms. Kidjo explains.
Drawing inspiration from her work as a Goodwill ambassador and a trip to Chad to visit with women refugees from Darfur as part of a delegation for Oxfam, Ms. Kidjo notes, "The purpose was for us to go talk to these women who are invisible in the face of the media. Those women taught me humility and forgiveness and embodied the strength to overcome hardship. They were in horrifying circumstances, but they were not dwelling on the negative or crying. They had lost their husbands and their children had lost father, but they maintained their dignity."
On a 2012 trip to Kenya while taking part in a documentary on malnutrition, Ms. Kidjo captured a chant the women were singing to her and her companions on her iPhone. This chant would find itself sampled for the track "M'Baamba."
Ms. Kidjo goes on to explain, "At the time, I was starting to write songs for a new album about the empowerment of women, but that experience nailed the importance of it for me. The sense of bonding I experienced with these women gave me the desire to expand the idea and work with other choirs of African women to create Eve. Through my many trips to Africa, I have seen that women are the backbone of the continent and that empowering them would be the key to a lasting change."
Eve is simply power packed with goodness. Plying the listener with the guitars of Lionel Loueke, guitars and bass by Dominic James, drums by Steve Jordan, bass by Christian McBride, programming and arrangements by Jean Hebrail, percussion by Magatte Sow, Crespin Kpitiki and Benoit Avihouse and keyboards Thomas Bartlett, Bahnamous Bowie and Mark Degli Antoni, Eve overflows with a delicious, infectious joyfulness that's hard to resist. Opening with the savvy, hip "m'Baamba," Eve doesn't let up for a moment, infusing the richly worked arrangements with the power of Ms. Kidjo's vocals and the radiant backing vocals of each choir. Goodies on Eve include the hard-driving "Shango Wa," the sweet soulfulness of title track with guest Nigerian singer Asa and the poignantly lovely "Blewu." Tracks like "Kulumbu with Dr. John and "Orisha" thrum with an unrestrained energy.
One of the things that I have often admired about Ms. Kidjo is her vocals. Eve is no exception. With tracks like "Awalole" and "Cauri," where Ms. Kidjo's vocals come across as genuine, there is an inner will and a boldness that enhances instead of overwhelming the music. There is no girly cuteness or sultry whisper pretenses on Eve: these vocals come across as full throated and fantastically rich.
Ms. Kidjo explains her intentions with Eve this way, "What I enjoyed most about creating Eve was the women giving me the authority and strength to continue speaking about justice, love, empathy and compassion. As an artist, this is all about me inspiring myself and other to find the strength to love and find solutions to our problems. As long as we are strong, we will move forward with dignity."
Buy Eve
Author:
TJ Nelson
TJ Nelson is a regular CD reviewer and editor at World Music Central. She is also a fiction writer. Check out her latest book, Chasing Athena's Shadow.
Set in Pineboro, North Carolina, Chasing Athena's Shadow follows the adventures of Grace, an adult literacy teacher, as she seeks to solve a long forgotten family mystery. Her charmingly dysfunctional family is of little help in her quest. Along with her best friends, an attractive Mexican teacher and an amiable gay chef, Grace must find the one fading memory that holds the key to why Grace's great-grandmother, Athena, shot her husband on the courthouse steps in 1931.
Traversing the line between the Old South and New South, Grace will have to dig into the past to uncover Athena's true crime.