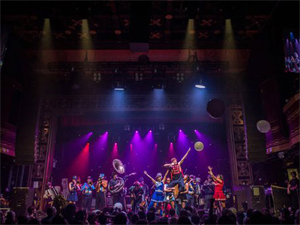 American world music showcase globalFEST, one of the most important annual events in North America for this type of music has launched its Kickstarter Campaign for 2014.
The new campaign will guarantee that the festival can keep ticket prices low. globalFEST is a non-stop festival that presents 12 outstanding world music groups together on 3 stages for 1 night. It is held each January in New York City. Over the past decade it has become one of the most influential world music events in North America.
In addition to the world music showcases, globalFEST manages the globalFEST's Touring Fund (gFTF), which offers a bi-annual competitive grant opportunity to all tour‐ready globalFEST alumni artists. gFTF is an innovative program designed to encourage cultural exchange by offsetting the high cost of touring in the U.S., and to encourage performances in new, underserved markets.
"globalFEST's kickstarter campaigns have become almost like a countdown to the actual festival," says cofounder Isabel Soffer. "The campaign gets people excited and intrigued about the line-up of the upcoming festival and it also gives colleagues and fans the opportunity to connect with gF on a deeper level by supporting an event that has had a catalytic effect on the industry
"We feel strongly about making every effort not to increase our ticket price (its remained the same for the eleven editions), yet our expenses increase each year as we do more around the event, at the APAP conference and year-round as an organization serving the performing arts community. The support we get from Kickstarter goes directly to producing the event, and any funds we receive above our goal go towards our touring fund."
globalFEST remains a primarily volunteer-based project. The festival directors, Bill Bragin of Acidophilus: Live & Active Cultures, Isabel Soffer of Live Sounds and Shanta Thake of Joe's Pub at The Public Theater- along with a dedicated team of volunteers – produce this highly anticipated event on an entirely unpaid basis.


"In 2010 globalFEST became an independent non-profit organization dedicated to pushing international music into the center of the performing arts field, supporting artists through a touring fund, and through professional development services to artists and the field," adds Isabel Soffer.
"Many of our colleagues tell us that the flagship festival is an essential catalyst in helping to choose artists for their stages, and we've enjoyed watching globalFEST alumni appear on line-ups all across the continent. Participating artists get to perform in front of many of North America's most important presenters, press, labels, and get to develop their audience in NYC. In addition, because of the tremendous press that gF generates artists often leave the festival with fantastic press materials, photos, videos, etc.
Once artists are globalFEST alumni, they also become eligible for tour support from the globalFEST Touring Fund, which is designed to help bring artists to new communities. With tour support from labels becoming more scarce, gFTF grants have become a significant factor in allowing artists to bridge distant dates, or enter a smaller market for the first time they might not otherwise be able to afford to play."
For artists interested in applying to perform at the annual showcase, Isabel Soffer describes the process: "We put out a simple call for artists submissions in March to a large database of artists, agents and industry professionals which tends to spread virally around the world. The three co-producers review the submissions and then curate a line-up that we hope reflects diversity of style, scale and appeal, so that hopefully all audience members will discover at least a few new favorites at the event."
For submission guidelines visit http://www.globalfest-ny.com/for-artists
For more information on the campaign go to:
kickstarter.com/projects/globalfest/globalfest-2014
Author:
World Music Central News Department
World music news from the editors at World Music Central