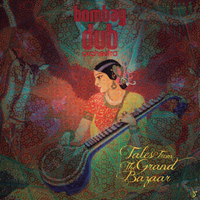 Bombay Dub Orchestra
Tales from the Grand Bazaar (Six Degrees, 2013)
With previous recordings, the self-titled Bombay Dub Orchestra and 3 Cities, under their belts Andrew T. Mackay and Garry Hughes, musicians, composers and masterminds behind Bombay Dub Orchestra, are set to release their latest Tales from the Grand Bazaar on October 8th on the Six Degrees label.
Tapping musical talents from Bombay, Delhi, Istanbul, the U.S., London and Kingston, Jamaica, Mr. Mackay and Mr. Hughes send the listener on a journey into a veritable musical kaleidoscope on this latest recording, a little side job for Mr. Hughes and his recent musical scoring work for an HBO documentary called Marathon Boy, Mr. Mackay's work on the Indian film Ballad of Rustom and Pakistani film Josh, and the duo's collaboration on the film Project Happiness with the Dalai Lama and George Lucas. But fans shouldn't feel slighted because the pleasure journey found on Tales from the Grand Bazaar is as good as any fanatical fan of Bombay Dub Orchestra could possible wish for and the musical landscape is lush, ever-evolving and deeply seductive.
Mr. Mackay remarks, "The vision is the end product, but how you get there is the journey, and music can take you to many places."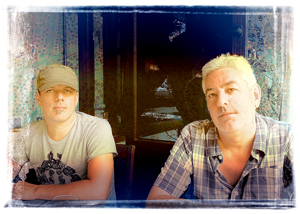 Jam-packed with keyboards, programming, synthesizers, Fender Rhodes and Wurlitzer electric pianos offered by Mackay and Hughes, Tales from the Grand Bazaar serves up sitar player Asad Khan, sarangi player Suhail Yusuf Khan, bansuri player Ritesh Prasanna, the Istanbul Strings Group, quanun player Aytac Dogan, oud player Cem Yildiz, tabla player Jas Ahluwali, santoor player Kamalijeet Ahluwali and tabla, dholak and duff player Sirshkumar. And if that weren't enough from Kingston, Jamaica there's of Sly and Robbie drummer Sly Dunbar, bassist Robbie Shakespeare, as well as guitarist Matt Backer.
Vocalists Ujwal Nagar, Hamisika Iyer and Tanja Tzar by turns dazzle the listener on such tracks as "Blue Mosaic," "Songs From the Seven Towers" and "City of Amber" in this recording that is simply overflowing with exoticism.
Opening with an Indian laced elegance, "The Orange Terrace" soon slips into a hip-loosening rhythm punctuated by sarod that will have fans dissolving into the deliciousness. Tales from the Grand Bazaar just gets better with the string infused "Blue Mosaic" with quanun lines provided by Aytac Dogan and the dark sweep of electronica.
Other treats include the moody coolness of "Sea of Marmara" with its intricately woven vocals, the sumptuously worked "Songs from the Seven Towers," "Bohemia Junction" with oud by Mr. Yildiz and its deliciously dark thrumming rhythms and the magical "Four Thousand new Colours." My personal favorite is perhaps the sweetly worked "A Time of Beauty." This track unfolds like a traveling lullaby, deep and dreamy with electric piano and bits and bites of a repeating electronica that almost come across as purring nature sounds, the effect is utterly delightful.
Mr. Mackay points out, "Music creates something visual. When you have a subject matter of a piece of music, you automatically start having visions. From the day I left music college, I was doing music to picture in some way; for both Garry and myself there has always been an integral connection between music and images."
Tales from the Grand Bazaar is a headlong leap into musical wonderland.
Buy Tales from the Grand Bazaar in North America
Buy Tales from the Grand Bazaar in Europe
Author:
TJ Nelson
TJ Nelson is a regular CD reviewer and editor at World Music Central. She is also a fiction writer. Check out her latest book, Chasing Athena's Shadow.
Set in Pineboro, North Carolina, Chasing Athena's Shadow follows the adventures of Grace, an adult literacy teacher, as she seeks to solve a long forgotten family mystery. Her charmingly dysfunctional family is of little help in her quest. Along with her best friends, an attractive Mexican teacher and an amiable gay chef, Grace must find the one fading memory that holds the key to why Grace's great-grandmother, Athena, shot her husband on the courthouse steps in 1931.
Traversing the line between the Old South and New South, Grace will have to dig into the past to uncover Athena's true crime.