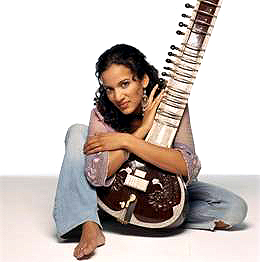 Celebrated sitar player and composer Anoushka Shankar will release her seventh album Traces Of You on October 22nd, 2013 via Deutsche Grammophon.
As a preview, the world music star has made a video directed by Shankar's husband, filmmaker Joe Wright (Pride & Prejudice, Atonement, Anna Karenina), featuring her half-sister Norah Jones, who also guests on three tracks on Traces Of You.
Shankar's new album marks a substantial step along her path as a musician and woman. The musical exploration on Traces Of You was inspired by the idea that everything in the universe leaves an indelible mark, or a subtle "trace," on everything else it comes into contact with.
Having lost her legendary father, Ravi Shankar, during the recording process, it was inevitable that her loss became the central focus of the song writing. However, the record is ultimately hopeful rather than mournful; a combination of the sorrow surrounding the loss of her father alongside the joy of raising her young son, Zubin. Traces of You was conceived as a unified concept and an unending circle, from the first track to the last.
"I approached the album as a whole," Anoushka Shankar explains, "as opposed to a series of songs. A lot of it happened unconsciously. Life took a journey of its own and the music followed that form. The sitar leads the listener through the album like a narrator."
Buy Traces Of You
Author:
World Music Central News Department
World music news from the editors at World Music Central