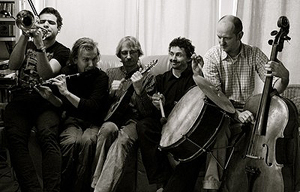 Janusz Prusinowski Trio, one of the leading Polish traditional folk bands will be touring the United States during September-October 2013. The tour includes 18 live shows Coast-to-Coast.
This is the second time the renowned band visits the USA. Janusz Prusinowski Trio appeared in 2010 as a part of "Chopin's 200th Birthday Celebration" tour including larger group of musicians playing tribute and presenting folk roots of Fryderic Chopin's music. At that time, besides Madison (Wisconsin), they also performed in Chicago and in New York City.
This time, the band will be promoting its newest CD "Knee Deep in Heaven" and for that occasion, they put together the most ambitious and the longest USA tour by any folk band from Poland, thus far.
Janusz Prusinowski Trio's 2013 tour will start on September 21st in Madison (Wisconsin) for Madison World Music Festival and conclude in Washington DC with the show at JFK Center for Performing Arts on October 16th.
The tour is sponsored and organized by Polish Cultural Institute in New York City with special assistance from Anna Perzanowska, Polish Cultural Institute New York.
Tour dates:
September 21, 2013, 1:30pm
Madison World Music
At Willy Street Fair
800 block of Williamson St.
Madison, WI
www.uniontheater.wisc.edu
September 22, 2013, Time: TBD
15th Annual World Music Festival: Chicago
Chicago Cultural Center
78 E Washington St,
Chicago, IL
www.worldmusicfestivalchicago.org
September 25, 2013, Time: TBD
Legion Arts
CSPS Hall, 1103 Third St SE
Cedar Rapids, IA
www.legionarts.org
September 26, 2013, Time TBD
Polish Studies Center, Indiana University
1217 East Atwater Avenue
Bloomington, IN
www.indiana.edu/~polishst/home/
September 27- 28, 2013
27th – 8:45pm
28th – 4:00pm, 10:30pm
Lotus World Music & Arts Festival
103 N College Ave
Bloomington, IN
www.lotusfest.org
September 29, 2013, 3:00pm
Music at Lily Pads
27 North Road,
Peace Dale, RI
www.musicatlilypads.org
October 4, 2013, 7:15pm (doors open at 6:30)
DROM
85 Avenue A (between 5th & 6th Sts.)
New York, NY 10009
www.dromnyc.com
October 5, 2013, 7:00pm – 11pm or later
Intimate House Concert
The Beautiful Hills of San Diego, California
October 6, 2013, 7:00pm
Yoshi's San Francisco
1330 Fillmore Street
San Francisco, CA
www.yoshis.com/sanfrancisco
October 7, 2013, Time: TBD
School of Music and Dance
San Diego State University
5500 Campanile Drive
San Diego, CA
Co-sponsored with the Center for World Music
www.music.sdsu.edu
October 9, 2013
10.30am
King Chavez Academy
415 31st St
San Diego, CA
www.kingchavez.org
Time: TBD
Southwestern College
900 Otay Lakes Rd
Chula Vista, CA
Co-sponsored with the Center for World Music
October 10, 2013, Time: TBD
European Jazz @ UCLA
University of California in Los Angeles
Schoenberg Hall
445 Charles E Young Drive East
Los Angeles, CA
www.music.ucla.edu
October 11, 2013
12.00am
Canyon Crest Academy
5951 Village Center Loop Rd
San Diego, CA
6:30pm
Folk Dance Center
Dancing Unlimited
4569 30th St.
San Diego, CA
Co-sponsored with the Center for World Music
www.folkdancecenter.org & www.centerforworldmusic.org
October 12-13, 2013, Time: TBD
Richmond Folk Festival
On Downtown Richmond's Riverfront
Richmond, VA
www.richmondfolkfestival.org
October 16, 2013, 6:00pm
The John F. Kennedy Center for the Performing Arts
Millenium Stage
2700 F St NW
Washington, DC
www.kennedy-center.org
More about the band: Janusz Prusinowski Trio
Author:
World Music Central News Department
World music news from the editors at World Music Central