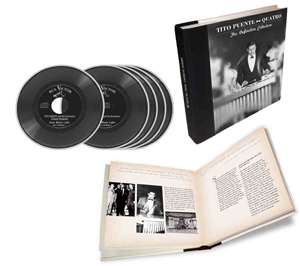 Tito Puente
Tito Puente – Quatro: The Definitive Collection (Sony Music Latin, 2013)
It's become shopworn to describe any worthy experience as an honor and a privilege. I nonetheless feel an appreciable measure of each as I set about opinionating on this 5-CD set, a landmark tribute to a Latin music master. Once it was in my hands, I took time to savor the cover photo before doing anything else. Though the pervasive image of Tito Puente is often that of him maniacally yet masterfully attacking the timbales, Quatro's cover shows El Rey contemplatively applying his impeccable skill to the vibraphone. It's a reminder that Puente was more than just a genius of rhythm. He was a versatile multi-instrumentalist who first learned to read music through childhood piano lessons and went on to become a world class composer, arranger, bandleader, jazz and Latin music icon, guardian of Afro-Cuban tradition, mainstream pop star, hobnobbing celebrity and inspiration to generations of Latin musicians.
Such is the sort of laundry list journalism I find myself resorting to. It's hardly necessary, what with Tito Puente needing no introduction. What do require elucidation are the reasons you must seek and acquire this book-looking limited edition box set by any means necessary. It may or may not fit your exact criterion for "definitive," but its written account is detailed and engaging and its recorded offerings ecstatically good.
Of the 5 CDs, 4 are reissues of albums from only a short span of Puente's roughly 60-year career. On the first of the lot, 1956's Cuban Carnival, it's mainly mass percussion and horns that we feel thrusting African rhythms into the new world. Congueros Mongo Santamaria, Patato Valdez, Candido Camero and Willie Bobo are in on the action, and Tito's budding jazz inclinations are heard on several tracks, including his version of Ray Bryant's "Cuban Fantasy."
Night Beat from 1957 is richly polyrhythmic, swinging Latin jazz with asides into samba and Afro-Cuban ritual rhythms. Driving but sophisticated, Night Beat paves the way for 1958's Dance Mania, the title of which describes exactly what patrons at New York City's Palladium were caught up in. Rightly regarded as one of the best Latin music albums ever recorded, Dance Mania captures the roots of what would later be classified as salsa and blazes with pure energy from start to finish.
1960's Revolving Bandstand is a collaboration with trombonist Buddy Morrow and his orchestra, groundbreaking for its time as a truly symbiotic fusion of straight ahead jazz and the Latin version thereof. Sometimes trading off and sometimes blending the two styles, the sounds produced by the dual orchestras are consistently thrilling.
Lastly there's the expected bonus disc: a selection of outtakes and unreleased tracks from the featured era. Loosely structured and revealing with regard to the building blocks that went into making Puente's complex music, CD #5 ices the cake perfectly.
There is of course a lot more to Puente's massive achievements than what's covered here, but what's covered here is nonetheless superb. And the accompanying text gives a history of Puente up to 1960, peppered with rare photos, testimonials, anecdotes, reproductions of original album art and liner notes, detailed information on players and singers and more. It adds up to a sumptuous package of great listening and reading, one that all fans of Latin jazz's king will savor.
Buy Quatro: The Definitive Collection in North America
Buy Quatro: The Definitive Collection in Europe
Author:
Tom Orr
Tom Orr is a California-based writer whose talent and mental stability are of an equally questionable nature. His hobbies include ignoring trends, striking dramatic poses in front of his ever-tolerant wife and watching helplessly as his kids surpass him in all desirable traits.