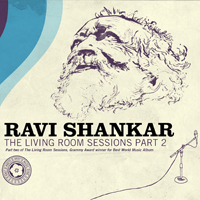 Ravi Shankar
Ravi Shankar The Living Room Sessions Part 2 (East Meets West Music, 2013)
I like knowing that at the age of 91 Ravi Shankar called up his friend and tabla master Tanmoy Bose and invited him to his home in Encinitas, California to record a couple of ragas in his living room. Beyond implying a long-time friendly intimacy, this kind of collaboration ensures that the music is true and worthy. And, that's exactly what listeners get on the latest installment of the Living Room Sessions. Of course, I suspect that if Ravi Shankar called just about any musician on the planet they would have dashed to their car, hopped on a plane or bus or snagged the nearest canoe to work with him.
Mr. Shankar is quoted on the liner notes as saying, "This is rather a different recording when, at almost 92 years, I was fooling around at home at Encinitas, California with my sitar, playing pieces with Tanmoy Bose on tabla. We recorded seven ragas in four days in my living room and had a lot of fun. I hope you enjoy listening to this as much as I did when I recorded it!"
A 91 year-old man, who is revered worldwide for his compositions and sitar playing, as well as known for being the gold standard in Indian music, fooling around on the sitar with an equally famous Indian percussionist, music producer, film actor and composer – that just about sums up the preciousness of this recording.
Joined by Kenji Ota on treble tanpura and Barry Phillips on bass tanpura, Mr. Shankar and Mr. Bose lay down a silky smooth journey for the three ragas "Raga Misra Kafi," Raga Sindhi Bhairavi" and "Raga Bhairavi" on The Living Room Sessions Part 2. Long, lush and endlessly captivating, these ragas dazzle the listener shifting moods and tensions. Of particular interest is "Raga Sindhi Bhairavi" with its headlong leap into musical experimentation as the track winds down to silence. It's really quite brilliant. "Raga Misra Kafi" and "Raga Sindhi Bhairavi" prove to be just as good, but perhaps in a more conventional way.
Sukanya Shankar comments on this recording, "I sometimes get puzzled and a little annoyed, actually, when people come and tell me 'you should have heard him 40 years ago, he was so fantastic then.' And indeed he was – very virtuosic and dazzling. But the depth and maturity with which he played in his later years reveals a whole history of Indian classical music and his very special relationship to it."
Ravi Shankar The Living Room Sessions Part 2 is proof positive that Mr. Shankar was a brilliant at 91 as he was at 31. As with how this recording came about in Mr. Shankar's living room, I love how the CD ends on "Raga Sindhi Bairavi" ends with Mr. Shankar's laughter and him saying, "Oh, this is fun," and someone else adds, "Great fun." And, that music fans is what music is supposed to be.
Buy the album in North America: Ravi Shankar The Living Room Sessions Part 2. Also available: Ravi Shankar The Living Room Sessions Part 1
Buy the album in Europe: Ravi Shankar The Living Room Sessions Part 2. Also available: Ravi Shankar The Living Room Sessions Part 1
Author:
TJ Nelson
TJ Nelson is a regular CD reviewer and editor at World Music Central. She is also a fiction writer. Check out her latest book, Chasing Athena's Shadow.
Set in Pineboro, North Carolina, Chasing Athena's Shadow follows the adventures of Grace, an adult literacy teacher, as she seeks to solve a long forgotten family mystery. Her charmingly dysfunctional family is of little help in her quest. Along with her best friends, an attractive Mexican teacher and an amiable gay chef, Grace must find the one fading memory that holds the key to why Grace's great-grandmother, Athena, shot her husband on the courthouse steps in 1931.
Traversing the line between the Old South and New South, Grace will have to dig into the past to uncover Athena's true crime.