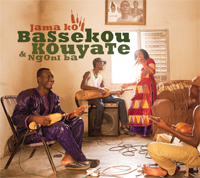 Bassekou Kouyate & Ngoni Ba
Jama Ko (Outhere Records, 2013)
With recordings Segu Blue and the Grammy-nominated I Speak Fula to his credit, Mali's Bassekou Kouyate and his group Ngoni Ba are back with his latest Jama Ko out on the Outhere Records label. Jama Ko means 'big gathering of people;' something Mr. Kouyate takes to heart with a new lineup for Ngoni Ba that includes his two sons Madou and Moustafa and a host of guest singers like Kasse Mady Diabate, Zoumana Tereta and Taj Mahal, who also lends his talents on the electric guitar and guest musicians like kamele ngoni player Harouna Samake, drummer Andrew Barr, guitarist Brad Barr and balafon and doun doun player Madou Kone.
Recorded in Bamako, Mali in March 2012, Jama Ko took on a new focus as Mali's president was overthrown by the military, power cuts and fuel shortages began and the restrictions of curfews set in and still Mr. Kouyate wasn't about to let the music of Mali go silent.
Fierce in its calls for peace, savagely good musically, Jama Ko proves powerful with its opening and title track "Jama Ko," with calls for tolerance and respect for the true spirit of Mali where all are peoples and beliefs are accepted to gather together. Laced with richly addictive rhythms, Amy Sacko's soaring vocals and some downright fiery ngoni playing, "Jama Ko" pulls the listener in with Malian ease and holds them captive for such treats as Latin-flavored Sinaly with singers Amy Sacko and Kasse Mady Diabate and ngoni player Abou Sissoko who offers up a solo or the hard-driving "Ne me Fatigue Pas" with guest artists drummer Andrew Barr and organist Dominic 'Mocky' Salole. Equally wonderful is the track "Kele Magni" or "War Is Bad" with Timbuktu vocalist Khaira Arby and Ms. Sacko against a hypnotic blend of ngoni, hand claps and chant offered up by Abou Sissoko.
Bassekou Kouyate and Ngoni Ba fans will surely fall for such tracks like warmly worked "Madou," the rhythmic dazzle of "Kensogni" with lead vocals provided by Zoumana Tereta or the blues tinged "Mali Koori," again with Zoumana Tereta taking the lead with some soulful vocals. "Djadje" and "Segu Jajiri" lighten the mood with a flurry of ngoni playing against Ms. Sacko's vocals.
The powerhouse track on Jama Ko has to be "Poye 2," an updated version of "Poyi" from the 2007 release of Segu Blue. Featuring bluesman and guitarist Taj Majal, known as Mamadou Daddy Kouyate, this track shimmers, sparks and sizzles with enough low down blues and Malian soulfulness that it's almost chewy.
Thick with vocals by Mr. Majal and Mr. Kouyate against a backdrop of guitar, ngoni, rhythm guitar, calabash, drums and double bass, "Poye 2" is downright potent. As an interesting side note, "Poye 2"is based on a traditional song played for warriors before going into battle. Considering what many Malian musicians face, this is a clever undercurrent to what artists like Mr. Kouyate and others face, and putting it in a blues context just makes it all the more powerful.
Closing track "Moustafa" is a delightful and elegant end to Jama Ko with lacy ngoni lines and again Ms. Sacko's lovely vocals and a ngoni solo provided by Moustafa Kouyate. Fans picking up a physical copy get a special treat with photographs of the musicians and rehearsing in what looks like someone's living room.
Jama Ko is utterly dazzling under any circumstances, but because of Mali's recent struggles Jama Ko becomes potent, powerfully pointed and precious.
Author:
TJ Nelson
TJ Nelson is a regular CD reviewer and editor at World Music Central. She is also a fiction writer. Check out her latest book, Chasing Athena's Shadow.
Set in Pineboro, North Carolina, Chasing Athena's Shadow follows the adventures of Grace, an adult literacy teacher, as she seeks to solve a long forgotten family mystery. Her charmingly dysfunctional family is of little help in her quest. Along with her best friends, an attractive Mexican teacher and an amiable gay chef, Grace must find the one fading memory that holds the key to why Grace's great-grandmother, Athena, shot her husband on the courthouse steps in 1931.
Traversing the line between the Old South and New South, Grace will have to dig into the past to uncover Athena's true crime.