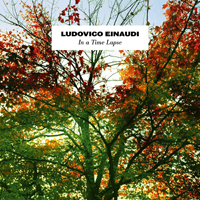 Ludovico Einaudi
In a Time Lapse (Ponderosa Music & Art, 2013)
I'm going to stray off the path of the usual for World Music Central for a review of Ludovico Einaudi's latest In a Time Lapse, out on the Ponderosa Music & Art label. I say stray because In a Time Lapse isn't what one would strictly classify as world music, even though the Italian composer and pianist has worked with the likes of Ballake Sissoko. Dubbed "alt-classical" in the press material, a term that doesn't do much more than put a label on it, In a Time Lapse is a magical hodgepodge of ambient and contemporary classical with some finely worked minimalist sensibilities.
As is my habit, I picked up In a Time Lapse and slipped it into the CD player without looking at the press material or liner notes first. I did notice the cover art of a photograph of autumn leaf covered trees, and as the music took over I immediately got that the composer had captured those trees by means of the music. As would luck would have it that is exactly what inspired Mr. Einaudi. Dipping into Henry David Thoreau's Walden, Mr. Einaudi captured nature and the wood with music.
Mr. Einaudi explains, "In Walden, Thoreau describes the sounds he hears in the woods, in his cabin, in great detail. Those sounds, and the different impression of time he expresses, stuck with me, as I traveled and performed and began to compose new pieces."
The music on In a Time Lapse , with its little visual clue from the cover art, so effortlessly evokes nature and time that it's difficult to not imagine a walk in the woods as one listens. For those who aren't classical or minimalist music fans, take a listen before you pass on this wonderful CD. There are no overly elaborate, over worked, sappily sweet versions of Fur Elise or harried, stringy tracks you have to chomp through or tracks fashioned out of a single bong of a gong to muddle through on In a Time Lapse. There is simply a carefully crafted ease to the flow of this music.
Opening with languid strings, "Corale" starts the listener off in a place of piece before giving way to the electronics, piano, guitars, strings and percussion of "Time Lapse" as the listener gets the first taste of time passing and changing landscapes. Capturing the crystalline sounds of celesta before moving into a sweeping composition ripe with piano, violin and cello, "Life" dazzles the listener with a cinematic feel of nature. Equally rich is the slow, patient feel of "Walk" with piano, celesta, viola, cello and kalimba. And, the goodies keep coming like "Discovery At Night," "Run" and sweetly spare "Two Trees." Equally wonderful are the tracks "Waterways" and "Experience."
Mr. Einaudi gives some insight to his work this way, "I need to have that deep connection everything I do, because it gives me no satisfaction to write music just because it's music. It has to move me emotionally or spiritually, as well as the intended audience."
Fans should be sure to check out the schedule for Mr. Einaudi's U.S. and Canadian tour. It should be a real treat. He says of the concert experience, "In concert, I bring the tempo of the music to a place where it's almost stopped, when it's very close to silence, to peace. Other moments, life comes pouring back, and the music becomes very emotional and powerful, and I share the emotion with the musicians."
Steeped in absolute loveliness, In a Time Lapse is possessed by a musical joyfulness and is a well-deserved reminder to stop and just listen.
Buy In a Time Lapse
Author:
TJ Nelson
TJ Nelson is a regular CD reviewer and editor at World Music Central. She is also a fiction writer. Check out her latest book, Chasing Athena's Shadow.
Set in Pineboro, North Carolina, Chasing Athena's Shadow follows the adventures of Grace, an adult literacy teacher, as she seeks to solve a long forgotten family mystery. Her charmingly dysfunctional family is of little help in her quest. Along with her best friends, an attractive Mexican teacher and an amiable gay chef, Grace must find the one fading memory that holds the key to why Grace's great-grandmother, Athena, shot her husband on the courthouse steps in 1931.
Traversing the line between the Old South and New South, Grace will have to dig into the past to uncover Athena's true crime.