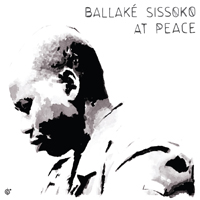 Malian kora player Ballaké Sissoko is set to release a new album titled 'At Peace' on February 5, 2013 on Six Degrees Records. Sissoko describes it as a continuation of the work he did with cellist Vincent Segal in his previous critically acclaimed album, Chamber Music. "I didn't want to do Chamber Music all over again," says Sissoko, "I wanted to work on its continuation."
Vincent Segal participates again. Just like on Chamber Music, Segal put his skills as a musical director to work. As it was on Chamber Music, the set-up for At Peace was intimate and only the most essential tools were used, avoiding unnecessary production tricks & overdubs. The focus was on spontaneity, and priority was given to first takes. The word "peace" included in the title of the record is not used casually or just as some rhetorical tool.
"When I want to play with someone," adds Sissoko, "I first have to understand the way he works; I have to build a friendship. That's my first reference point and it takes time to get there."
'At Peace' was recorded in Angouleme (in Western France) in the studio of jazz bass player Kent Carter. It gathers Sissoko's long time trusted musical companions. In addition to Vincent Segal, the album also features Aboubacar "Badian" Diabaté on twelve string guitar, the discrete and essential Moussa Diabaté, his ideal partner on the six string guitar and Fasséry Diabaté, whose outlines on the balafon were also featured on the Tomora and Chamber Music albums.
"I wanted for people to hear musicians in the process of discovery, musicians who sometimes were surprised by what they are playing," says Sissoko.
US Tour Dates – Ballaké Sissoko & Vincent Segal
02/26/13 – Eastman School of Music – Rochester, NY
02/28/13 – Florence Gould Hall – New York, NY
03/01/13 – Atlas Performing Arts – Washington, DC
03/02/13 – Arden Gild Hall – Arden, DE
03/08/13 – The Cedar Cultural Center – Minneapolis, MN
03/09/13 – Wehr Hall – Milwaukee, WI
03/10/13 – Old Town School of Folk Music – Chicago, IL
03/11/14 – Ohio State University – Newark, OH
03/12/13 – Prius Hall/Emens Auditorium (Ball State University) – Muncie, IN
03/14/13 – Skirball Cultural Center – Los Angeles, CA
03/15/13 – St. John's Presbyterian Church & Center – Berkeley, CA
03/16/13 – First Congregational Church – Santa Cruz, CA
Author:
World Music Central News Department
World music news from the editors at World Music Central