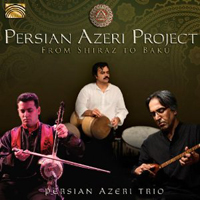 Persian Azeri Trio
From Shiraz To Baku (Arc Music, 2012)
Ace musicians from Iran and Azerbaijan join together in this pleasant album exploring the connections between Persian and Azeri traditional music. The seven tracks make for a 40-minute blend of acoustic sound from the two neighboring countries on the traditional Silk Road.
The featured instruments include setar (4-stringed lute, regarded as ancestor of the Indian sitar), kamancha (4-stringed spike fiddle) and tombak (goblet-shaped drum). Pejman Hadadi is a renowned tombak player, Hamid Motebassem is featured on tar (long-necked lute) and setar, and Imamyar Hasanov is an established Azeri kamancha player.
Our picks from this album include the pleasant opening track Shining Through as well as Call Through the Light. The energetic piece Joyful also stands out, and the album ends with superb crescendo in Infinity.
Pejman Hadadi has a string of albums to his credit, including Rengineh (with Zarbang Ensemble), Journey to Persia (with Dastan Trio), Midnight Sun, Fire of Passion and A Tale of Love. He is the founder of Neyreez World Music Institute in Southern California, and has toured extensively in North America, Europe, Iran and Japan.
Hamid Motebassem is the founder of the Society of Tar and Setar and has organized annual seminars dedicated to the two instruments. He has performed on numerous albums of contemporary Iranian composers as well as on all the released works of Dastan Ensemble since 1992. Motebassem studied in the Tehran School of Art and the Conservatory of Persian Music.
Imamyar Hasanov was born in Baku, Azerbaijan. He started playing the kamancha at the age of 7 and eventually became the youngest soloist in Azerbaijan's National Music Instruments Orchestra.
Author:
Madanmohan Rao
Madanmohan Rao is an author and media consultant from Bangalore, and global correspondent for world music and jazz for World Music Central and Jazzuality. He has written over 15 books on media, management and culture, and is research director for YourStory Media. Madan was formerly World Music Editor at Rave magazine and RJ at WorldSpace, and can be followed on Twitter at @MadanRao.