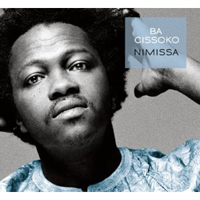 Ba Cissoko
Nimissa (Cristal Records, 2012)
With recording like Seno, Sabolan and Electric Griot Land to his credit, Ba Cissoko is back with one cool, hip track after another with his latest Nimissa. Originally from Guinea and now living in France, Ba Cissoko has teamed up with producer Philippe Eidel of Gipsy Kings fame to throw a little French influence into the mix and kick up the grooves of this kora crazed rock band. Fans diving headlong into the swirling grooves and dishy percussion lines of Nimissa aren't likely to come up any time soon.
Plunging into the grooves along with master kora player and singer Ba Cissoko are Sekou Kouyate on electric kora and vocals, Ibrahima Kourou Kouyate on bass guitar, Abdoulaye Kouyate on guitar, Alhassane Camara on drums, Laurent Rigaud on drums and the Ava Saty Marching Band on brass. And these musicians leave nothing but a cool hipness in their wake, drawing deeply on West African musical traditions with enough of a slick European shine to keep the whole body of work afloat.
Opening with the savvy flare of "Ako," Ba Cissoko and friends take the listener on a ride filled with plenty of delicious grooves like the energetic title track "Nimissa," the easy groove of "Politiki" and sweetly worked "Loumo." But it's tracks like "Naboran," the savagely hipness of "N'Tenlebidge" and "Djoulo Diata" and kora work of ""Kelefaba," "Djeli Fatouma" and "N'Goni Ba" that transform this recording into something extraordinary.
Buy Nimissa
Author:
TJ Nelson
TJ Nelson is a regular CD reviewer and editor at World Music Central. She is also a fiction writer. Check out her latest book, Chasing Athena's Shadow.
Set in Pineboro, North Carolina, Chasing Athena's Shadow follows the adventures of Grace, an adult literacy teacher, as she seeks to solve a long forgotten family mystery. Her charmingly dysfunctional family is of little help in her quest. Along with her best friends, an attractive Mexican teacher and an amiable gay chef, Grace must find the one fading memory that holds the key to why Grace's great-grandmother, Athena, shot her husband on the courthouse steps in 1931.
Traversing the line between the Old South and New South, Grace will have to dig into the past to uncover Athena's true crime.