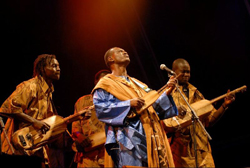 Malian ngoni master Bassekou Kouyate is one of the musicians boarding 'The Africa Express' train, which departs London on 2nd September. He will join a lineup of musical legends, emerging new artists, vocalists, DJs and producers from Africa and the West, including Amadou & Mariam, Baaba Maal, Carl Barât, Charlie XCX, Damon Albarn, Dead Prez (M1), Diabel Cissokho, Fatoumata Diawara, Jack Steadman (Bombay Bicycle Club), John McClure (Reverend & the Makers), Jon-Paul Jones (Led Zeppelin), Jupiter & Okwess International, Kano, Krar Collective, Kyla La Grange, M.anifest, Marques Toliver, Maximo Park, M3NSA, Nick Zinner (Yeah Yeah Yeahs), Nicolas Jaar, Nneka, The Noisettes, Rae Morris, Rokia Traoré, Rye Rye, Spoek Mathambo, Thandiswa, Terri Walker, The Temper Trap, Toumani Diabate and The Very Best (sound system).
'The Africa Express' is produced in association with the Barbican as part of London 2012 Festival. It will travel through England, Scotland and Wales for an exclusive musical journey including scheduled concerts in Glasgow, Manchester, Cardiff, Bristol and London, as well as pop-up performances at train stations, schools, factories, offices, shopping centers and homes. See below for venue line-ups and ticket information.
Bassekou Kouyate
In recent months, Bassekou Kouyate has been touring with the AfroCubism super group and his band Ngoni ba, and he has also recorded a new album. The recording of his upcoming third album "Jamako" took place in Mali's capital Bamako in March 2012 and coincided with the military coup which overthrew the Malian president Amadou Toumani Toure, a great supporter of Bassekou.
Naturally, Bassekou was deeply affected by the rapidly changing events in his country. He managed to finalize the sessions despite power cuts, fuel shortages and the daily curfews. Meanwhile, the conditions in the north of Mali were getting worse and. Bassekou reacted by plugging in his wah wah pedal and cranking up his amplifier. He wants to demonstrate that music is an integral part of Malian culture.
"Jamako means 'great meeting of people': You may be rich or poor, Muslim or Christian, let's get together and enjoy ourselves," explains Bassekou. "There are 90% Muslims in Mali, but our form of Islam here has nothing to do with Sharia, that is not our culture. We have been singing praise songs for the prophet for hundreds of years. Mali is a free and peaceful country where you can be who you want to be."
"Jamako" was recorded live, with no overdubs, at studio Bogolan with a completely new band line-up including two of Bassekou's sons, Madou and Moustapha Kouyate , and the ngoni sensation Abou Sissoko. It includes a duet between Amy Sacko and Khaira Arby from Timbuktu calling for peace in Mali, Kassemady Diabate praising Sinali Diarra, a Bamana king famous for resisting forced Islamization in the 19th century, Zoumana Tereta praising the cotton farmers and the great ngoni masters who are no longer with us, Harouna Samake on kamale ngoni and an extraordinary jam with Taj Mahal singing and playing guitar backed by Mocky Salole on drums.
The record is co-produced by Howard Bilerman (Arcade Fire/ Hotel2Tango) from Montreal. It will be released in January 2013 on outhere records.
Africa Express
Africa Express brings together musicians from different cultures, genres and generations to break boundaries and offer a new perspective on Africa and its music.
Africa Express began in 2006 with a trip to Mali, when co-founder Damon Albarn took the likes of Fatboy Slim, Martha Wainwright and Jamie T to work with African legends such as Toumani Diabate, Salif Keita, Amadou & Mariam and Bassekou Kouyate.
This was followed by a trial London event, then the now-legendary Glastonbury 2007 show, followed by trips to Nigeria, the Congo, Ethiopia and shows at the BBC Electric Proms, for 25,000 people in Paris town centre and with 50,000 people on a Spanish beach show. "It's as if music is just rising up out of the ground. It's unstoppable, it's everywhere, and people are very generous about sharing it with you. African music is the future of music," says Damon Albarn
Each event is unique, based upon on-the-spot collaboration and filled with one-off moments of magic. Past events have included Baaba Maal singing "Take Me Out" with Franz Ferdinand; Rokia Traore performing a Gorillaz hit with Damon Albarn; Johnny Marr duelling guitars with Amadou and Mariam; and Mick Jones and John Paul Jones among the stars backing Rachid Taha on "Rock el Casbah".
"That was, without a doubt, the craziest show I have ever played in my life." – Flea, Red Hot Chilli Peppers, after playing with Africa Express at The Shrine, Lagos


3rd September
Middlesbrough
Town Hall
Tickets: £15 plus booking fee. www.seetickets.com / 01642 729 729
4th September
Glasgow, The Arches
Tickets: £15 plus booking fee. www.thearches.co.uk / 0141 5651000
5th September
Manchester, The Ritz
Tickets: £15 plus booking fee. www.bandonthewall.org / www.ticketwall.org / 0845 2 500 500
6th September
Cardiff, Solus (Cardiff University)
Tickets: £15 plus booking fee. www.seetickets.com / 02920 230130
7th September
Bristol, The Big Top@Creative Common
Tickets: £17.50 plus booking fee. www.colstonhall.org / 0117 922 3686
8th September
London, Granary Square at King's Cross
Tickets: £20 plus booking fee. www.barbican.org.uk/music/event-detail.asp?ID=13701
To buy tickets for any of the dates: www.kililive.com/artists/africa-express / 020 7638 8891
www.africaexpress.co.uk
Author:
World Music Central News Department
World music news from the editors at World Music Central