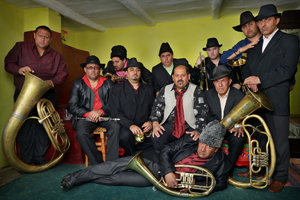 The New York Gypsy Festival, produced by Serdar Ilhan and Mehmet Dede, will celebrate its eighth year with a total of nine shows from September 8 – September 30, 2012. Highlights include the return of the renowned Romanian Gypsy band Fanfare Ciocarlia; the striking Andalusian dancer and singer Elena Andujar from Spain; Balkan funk & jazz masters NY Gypsy All-Stars; Italian/Canadian swing-folk artist Marco Calliari and New York's very own eclectic blues-alt band Hazmat Modine.
The festival will also include the flamenco jazz sounds of Ariadna Castellanos, Canadian party brass band Roma Carnivale, the powerful all-star collective Sway Machinery, the Gypsy cabaret stylings of Portland's Sepiatonic, and Berlin's queen of Balkan Beats DJ IPEK.
For the first time this year the festival will include a film screening, a Romani music workshop and a brass battle for the benefit of Zlatne Uste's Golden Festival.
Festival Schedule

Saturday, September 8
Festival Opening Night Gypsy Blues & Rock featuring
Hazmat Modine & Sway Machinery
Doors at 7pm, Show at 7:45pm
$15 adv, $20 at door
Sunday, September 9
Romani Dance Party & Brass Battle featuring
Zlatne Uste, Raya Brass Band, Veveritse Brass Band, Sazet Band, Romski Boji & Chochek Nation
For the benefit of the Zlatne Uste Golden Festival
Doors at 4pm, Show at 5pm
$10 adv, $15 at door
Tuesday, September 18
Film Screening of the Critically Acclaimed
"A People Uncounted" by Aaron Yeger
and Romani Music Workshop & Lecture with Petra Gilbert, Professor at Initiative for Romani Music at NYU
Doors at 4pm for Workshop, Film Screening at 6pm
$10 for workshop, Free admission with RSVP for film
Thursday, September 20
Gypsy Funk & Jazz and Italian Folk featuring
Ny Gypsy All-Stars & Marco Calliari
Doors at 7pm, Show at 8pm
$15 adv, $20 at door
Saturday, September 22
Romania's Legends of Gypsy Brass Music
Fanfare Ciocarlia, First US Tour in 9 Years!
at The Michael Schimmel Center for the Arts at PACE University
3 Spruce Street, NY, NY, 10038
Doors at 7pm, Show at 7:30pm
$35
With support provided by the Romanian Cultural Institute in NY
Saturday, September 22
Fanfare Ciocarlia Official Afterparty featuring
Roma Carnivale
Doors at 10pm, Show at 11pm
$10
Thursday, September 27
Gypsy Cabaret & Eclectic Balkan Beats featuring
Sepiatonic & Dj Ipek's Eklektik Berlinistan
Doors at 10pm, Show at 10:30pm
$10
With support provided by the Goethe Institute
Friday, September 28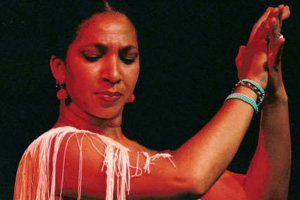 Contemporary Andalusian Dance & Music featuring
Elena Andújar
Doors at 6:30pm, Show at 7:30pm
$15 adv, $20 at door
Sunday, September 30
Flamenco Jazz featuring Ariadna Castellanos
Doors at 6:30pm, Show at 7:30pm
$15 adv, $20 at door
With support provided by Instituto Cervantes
As in previous years, the public can purchase festival passes to the NY Gypsy Festival. The $45 pass gives fans access to all shows during the festival at Drom. Festival passes are available now on The NY Gypsy Festival website on http://www.nygypsyfest.com. The passes are NOT valid at the Fanfare Ciocarlia concert, which takes place at PACE University.
Author:
World Music Central News Department
World music news from the editors at World Music Central