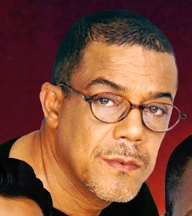 Grupo Niche's founder Jairo Varela, died on August 8th, 2012 of a heart attack at his home in Cali, Colombia. He was 62.
Jairo Varela was a legendary figure in Colombia's salsa music scene. Colombia became a salsa powerhouse in the last three decades and Varela's Grupo Niche was one of its iconic acts. Some of Grupo Niche's most popular songs include 'Cali Pachanguero', 'Mi Valle del Cauca' and 'Una Aventura'.
Jairo Varela Martínez was born in Quibdó, in the Department of Chocó, Colombia on December 9th, 1949. At 8, he formed his first band called La Timba. In the late 1970s, his family moved to Bogotá , Colombia's capital.
The large Grupo Niche salsa orchestra was formed in 1978. The first album titled Al Pasito came out a year later and it featured hit songs such as 'Tiempos de ayer', 'Rosa Meneo' and 'A ti Barranquilla'.
One of Niche's essential albums was No Hay Quinto Malo, released in 1984, which featured the popular song 'Cali Pachanguero'.
Unlike other salsa bands, Jairo Varela was not a performer in the band. He was the composer and musical director of Grupo Niche. The band catapulted several vocalists and musicians to fame, including singers Alvaro del Castillo, Tito Gómez, Carlos Alberto Cardona, Willy García, and Javier Vázquez.
The hits continued in the 1990s with Carlos Alberto Cardona on vocals. Chart toppers included 'Busca por dentro', 'Una Aventura' and 'Se pareció tanto a ti' from the 'Cielo de tambores' album.
Throughout his career, Varela produced over 60 recordings. In addition to Cali Pachanguero", Mi Valle del Cauca and "Una Aventura , Grupo niche's other hits include Gotas de lluvia, Ana Milé, La Canoa Rancháa, Busca por dentro, Buenaventura y Caney, La Magia de tus besos, La negra no quiere, Han cogido la cosa, and Cali Ají.
Jairo Varela suffered a previous heart attack in 2007, which led him to quick smoking and drinking coffee.
Author:
World Music Central News Department
World music news from the editors at World Music Central