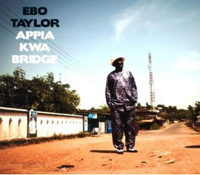 Ebo Taylor
Appia Kwa Bridge (Strut O89CD, 2012)
Ghanaian highlife veteran Ebo Taylor has had a long career and this very satisfying new release shows he's still got a lot of life, licks and love in him. His recordings and touring with Berlin-based Afrobeat Academy a couple of years ago were a sure sign of a resurgence, one that Appia Kwa Bridge(recorded in Berlin) continues and builds upon.
Some of Afrobeat Academy's players are key contributors, but a connection to the music's roots is assured by the presence of such participants as drumset master Tony Allen, who was the driving force in Fela Kuti's Afrika 70 band. So it comes as no surprise that Appia Kwa Bridge wields the aggressive locomotion of Afrobeat music at times.
Opening track "Ayesama" (based on a tribal war cry) certainly has the funk to rouse a rabble or two. But as the disc moves along, the musical punch eases back by varying degrees to allow the voice and perspective of an old master to have his say on matters like the bridge celebrated in the title song, a place that connects the two sides of his hometown of Saltpond and serves as a rendezvous spot for lovers. Plus, the fact that two of the album's eight tracks feature Taylor's guitar and vocals with no other accompaniment at all clearly show his desire to shed light on highlife's origins in early 20th century palm wine music (indeed, one of the stripped-down selections is "Yaa Amponsah," a love song dating from the 1920s). Still, those in the mood to dance need not fret. Whether straight ahead highlife or a kind of highlife/Afrobeat hybrid, the uptempo songs are plenty hot while still maintaining an elegance supported by the use of old style instruments like the Farfisa organ.
A similar elegance is heard in Taylor's voice, certainly worn some with age but remaining supple enough to deliver a spiritual message over a nice thick groove or the kind of poignancy needed to convey the pain of "Barrima," a tribute to Taylor's late wife.
Buy the CD Appia Kwa Bridge.
Listen to samples and buy MP3s: Appia Kwa Bridge
Author:
Tom Orr
Tom Orr is a California-based writer whose talent and mental stability are of an equally questionable nature. His hobbies include ignoring trends, striking dramatic poses in front of his ever-tolerant wife and watching helplessly as his kids surpass him in all desirable traits.