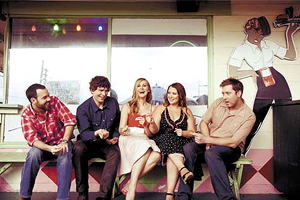 Contemporary bluegrass band Bearfoot has released a music video for "Midnight in Montana." This is the second video from American Story, their 2011 album on Compass Records.
The videoclip features lead vocals from guitarist Todd Grebe and video follows the band on the road in the western American state of Montana, with candid shots and impromptu band performances on the side of Highway 90, in the backseat of the van and on hay bales, capturing the playful spirit of the band on the road.
The current lineup includes Angela Oudean on fiddle, Jason Norris on mandolin and fiddle, Nora Jane Struthers on vocals and guitar, Todd Grebe on vocals and guitar, and PJ George on bass.
"Tell Me A Story," the first video from American Story, was featured for three straight weeks as the #2 album on the CMT Pure 12-Pack Countdown with the album itself securing Bearfoot a spot on the Americana radio charts alongside new releases from Wilco, Merle Haggard and Tom Waits.
As a result of their media success, Bearfoot has since been booked to perform at some of the top music festivals this year including the Grey Fox Bluegrass Music Festival, Bristol Rhythm and Roots and La Roche in France.
Tour dates:
6/14 Rio Grande Botanic Garden Albuquerque NM
6/22 Brownville Concert Hall Brownville NE
6/23 Brownville Concert Hall Brownville NE
6/24 Brownville Concert Hall Brownville NE
6/26 Ann Arbor Summer Festival Ann Arbor MI
6/27 Space Evanston IL
6/28 McMillan Memorial Library Wisconsin Rapids WI
6/30 River of Music Party – ROMP Owensboro KY
7/17 Salmon Bake Denali Park AK
7/18 Watermelon Wednesdays West Whatley MA
7/19 Concert Happenings in Ridgefield's Park (CHIRP) Ridgefield CT
7/20 Grey Fox Bluegrass Festival Oak Hill NY
7/21 Grey Fox Bluegrass Festival Oak Hill NY
8/16 Tap Root Anchorage AK
8/18 Mountain Stage Fairbanks Fairbanks AK
8/22 Salmon River Rafting with Bearfoot Salmon ID
8/23 Salmon River Rafting with Bearfoot Salmon ID
8/24 Salmon River Rafting with Bearfoot Salmon ID
8/25 Salmon River Rafting with Bearfoot Salmon ID
8/26 Salmon River Rafting with Bearfoot Salmon ID
8/27 Salmon River Rafting with Bearfoot Salmon ID
9/14 Bristol Rhythm and Roots Reunion Bristol VA
Author:
World Music Central News Department
World music news from the editors at World Music Central