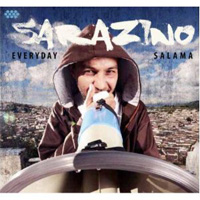 Sarazino
Everyday Salama (Cumbancha, 2012)
If there were any justice in the world I would be sick and tired of hearing Sarazino. The hip and wildly addictive sound of Sarazino should be flooding the commercial airwaves, well, if it weren't for the mulish stubbornness of the typical top 40 radio station to play anything out of the major label manufactured lineup. And, that is a damn shame because Sarazino's mix of hip-hop, reggae, Algerian rai, Latin American grooves and funk is deliciously good.
The savagely cool Sarazino, led by global villager and creative force, Lamine Fellah, hit the streets in 2009 with the Cumbancha Discovery release Ya Foy!. Now, Sarazino is back with a whole new line up of sizzling tracks on their May 22nd release of Everyday Salama. As bold and fearless as their first recording, Sarazino zings the listener with ferocious guitar licks and fiery rhythms in slick, provocative tracks on Everyday Salama.
Kicking off Everyday Salama with the fierce "El Fugitivo" music fans get full force the splash of Sarazino's global sound replete with sassy brass, shivering guitar lines and an infectious beat. Everyday Salama is chocked full of goodies like "Lunes Vudu" with guest artist Rootz Underground, funk soaked title track "Everyday Salama" with guest artist Sabina Sciubba and "Es La Vida" with guest artist Novalima.
My personal favorites include reggae coolness of "En Latinoamerica" with guest artist Niyo Pumpin, the fluid hipness of "Pelo Shao" with guest artist Andrea Ruilova and the silky vocals of Brazil's Luisa Maita on "Sigueme Dejalo." With additional guests like Sierra Leone's Refugee All Stars, Bacho Ortiz, D'Callaos and Isidro Garcia contributing tracks, Everyday Salama fairly thrums with its potent fusion.
Fans wanting to soak up live tunes from Sarazino experience should be sure to check out their May and July U.S. and Canada touring dates.
Author:
TJ Nelson
TJ Nelson is a regular CD reviewer and editor at World Music Central. She is also a fiction writer. Check out her latest book, Chasing Athena's Shadow.
Set in Pineboro, North Carolina, Chasing Athena's Shadow follows the adventures of Grace, an adult literacy teacher, as she seeks to solve a long forgotten family mystery. Her charmingly dysfunctional family is of little help in her quest. Along with her best friends, an attractive Mexican teacher and an amiable gay chef, Grace must find the one fading memory that holds the key to why Grace's great-grandmother, Athena, shot her husband on the courthouse steps in 1931.
Traversing the line between the Old South and New South, Grace will have to dig into the past to uncover Athena's true crime.