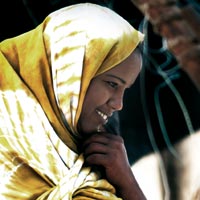 Saharawi Singer Aziza Brahim has a new music video titled La Tierra Derrama Lágrimas (the earth pours tears) filmed by Donal Scannell of Scanarama, from the upcoming album 'Mabruk' to be released on June 11.
Aziza Brahim embodies the new voice of the Saharawis (also known as Sahrawi), a people who resist and fight again to win their independence. Her songs evoke exile, the right to freedom and the martyrs of the Saharawi Polisario Front.
A Saharawi from Western Sahara, Aziza Brahim Maichan was born June 9th, 1976 in a refugee camp near Tinduf in Algeria. She spent seven years pursuing her studies in Cuba, which she abandoned to devote herself to music.
She returned to the Sahawari refugee camps in 1995. The same year she won the First National Song Prize at the festival of culture of the S.A.D.R. (Saharawi Arab Democratic Republic) and made her first recordings for the National Saharawi Radio. She then joined the National Saharawi Group, making her first international tour, which took her to Mauritania and Algeria.
In 1998, in collaboration with the Ministry of Culture of the S.A.D.R., the label Nubenegra released the trilogy 'Sahrauis'. In the album 'A Pesar Des Las Heridas', two of her songs appeared, 'Dios Mio' and 'La Tierra Derrama Lagrimas', which were well received on the international market and appeared in numerous compilations. With the group Leyuad, she made her first European tour the same year, performing on French, German and Spanish stages.
After her return to the camps, she made several recordings in 1999 for Tinduf radio with Tuareg musicians from Tamanrasset.
Since 2000, she has lived in Spain, and toured with Leyuad in Spain (2001), in France (2002 and 2003) and sharing the stage at the international festival in Mores (Germany) in 2003 with Ojos de Brujo and Cheb Khaled.
In 2005, she joined the group Yayabo Latin Jazz, which was her first experience integrating Sahrawi music with Caribbean rhythms. Her repertoire expanded with other people's songs, notably those of Violeta Parra. The subjects she addressed found a counterpoint in Cuban tumbao, Castilian choruses and the open harmonies of Latin jazz.
Since 2006, she has led a new musical project with the group Gulili Mankoo, the result of her experiences with musicians from Africa and other continents and the influence of the Latin world. The group, made up of Saharawi, Spanish, Colombian and Senegalese musicians, is a fusion of African and Saharawi music, with accents of rock and blues. They tour throughout Spain, and in other European countries like the United Kingdom, Sweden and Denmark.
Author:
World Music Central News Department
World music news from the editors at World Music Central