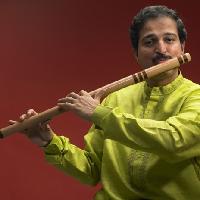 Bansuri flute master Rupak Kulkarni and mandolinist Snehasish Mozumder are set to perform at Crossroads Music in Philadelphia on Sunday, May 6, 2012 at 7:30 pm. Presented in collaboration with the Sangeet Society.
The son of the late Pandit Malhar Kulkarni, Pandit Rupak Kulkarni blossomed under the tutelage of flute maestro Pandit Hariprasad Chaurasia to become an outstanding exponent of the Maihar gharana. He began formal music study at the age of 12 and in a lifetime of study has mastered dhrupad, khayal and tantrakari styles equally well, combining them with melodious alap and scintillating tatkar, innovative improvisation with superb breath control and dexterous finger work.
In India, he has performed at all the most prestigious festivals, and he has also toured around the globe, in Europe, Japan, Australia, and North America. His performances have been lauded by the most eminent musicians in India, including Pandit Ravi Shankar and Pandit Bhimsen Joshi. In addition to his career as a classical musician, he has also recorded music for a number of Indian films and collaborated with several European and African musicians.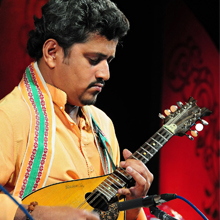 Snehasish Mozumder is among the few established musicians in India who has mastered the mandolin, blending it perfectly into the style of Hindustani classical music. Among a new generation of recognized Indian classical musicians coming from the Indian subcontinent today.
He started his initial training at the age of four with tabla and then mandolin under the guidance of various family members and then the late Acharya Ajoy Sinha Roy, a beloved disciple of Baba Allauddin Khan Saheb, the founder of Maihar Gharana; Pandit Anil Palit, the senior disciple of Pandit Kishan Maharaj; and finally Pandit Ajoy Chakraborty. Snehasish has performed at, Europe, the UK, and the USA and enthusiastically shares his talent and innovations with diverse artists and audiences all over the world. He is the recipient of Surmani and Jadubhatta Awards.
Tabla player Subhen Chatterjee initially studied Lucknow Gharana with Pandit Swapan Chowdhury and went on to learn the intricacies and beauty of many other Gharanas that have made his style of playing so unique and distinctive. He has accompanied Pt. Bhimsen Joshi, Smt. Girija Devi, Pt. Jasraj, Smt. Sobha Gurtu, Pt. V. G. Jog, Pt. Rajan-Sajan Misra, Ustad Rashid Khan, Ustad Shahid Parvez, Pt. Viswa Mohan Bhatt, Ustad Ashish Khan, Pt. Ulhas Kashalkar, Pt. Manilal Nag, Ustad Ali Ahmed Hussain Khan, Pt. Ronu Mazumder, Pt. Chitresh Das and many others and is also a very fine soloist.
Crossroads Music
801 South 48th Street
Philadelphia (in Calvary Church)
Tickets ($5-$15)
Author:
World Music Central News Department
World music news from the editors at World Music Central