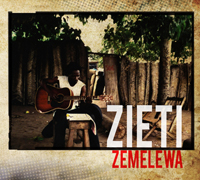 Zieti

Zemelewa (Grigri Discs GRIGRI004, 2011)
Back at the end of the last century, guitarist Michael Shereikis and drummer Alex Owre, both Americans, happened to link up with singer Yeoue Narcisse and guitarist/singer Tiende Laurent in the latter pair's Ivory Coast homeland. The spontaneous and inspired music the foursome created was recorded on 10 tracks that were lost after Owre and Shereikis headed home and Ivory Coast was torn apart by civil war.
Despite the ensuing decade's internal strife, the two Africans managed to get into a studio to record a batch of songs that recaptured some of the magic they'd made with their American counterparts but were limited by cut-rate MIDI production. Not to worry. Shereikis (current resident of Washington D.C. and a member of that city's Chopteeth Afrofunk Big Band) got hold of the tracks and recruited some American and African musician friends (including Owre, who laid down drums from his home base in Maine) to give the whole affair some organic breathing room.
The result is a superb, spirited selection of Afropop beginning with the Francophone zest of the title track and continuing through dance-inducing jams, acoustic asides, heartfelt topical tunes and bold fusions, all so seamlessly played and sung you'd never guess they were assembled from tracks recorded in two hemispheres. Stylistically, there are hints of rumba, highlife, Afrobeat, makossa and regions ranging from the Sahara to the Townships, but the bottom line is stuff you can't easily categorize and stronger because of it.
Narcisse and Laurent's melodic core is enhanced by surrounding boosts of guitars, bass, keys, percussion, horns and suitably gritty production. Those Ivory Coast seeds planted more than a decade ago have bloomed fully and beautifully.
Zemelewa is one of the best collaborative efforts of its type and an early contender for one of 2012's best.
Author:
Tom Orr
Tom Orr is a California-based writer whose talent and mental stability are of an equally questionable nature. His hobbies include ignoring trends, striking dramatic poses in front of his ever-tolerant wife and watching helplessly as his kids surpass him in all desirable traits.