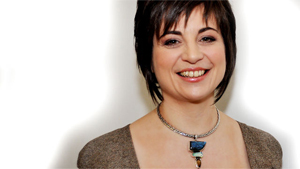 A grassroots campaign is taking place to save one of the most important world music radio shows in the UK. Global Gathering, on BBC Radio Scotland, presented by the knowledgeable Mary Ann Kennedy focuses on world music with a uniquely Scottish perspective.
BBC Scotland announced that Global Gathering is being eliminated from the schedule and replaced with a revamped Classics Unwrapped program, which will look at the classical music scene in Scotland. The planned changes to the schedule add more talk radio programming during the day and music in the evening. The move has generated widespread criticism.
As part of its coverage of these changes, British newspaper the Scotsman asked in its Leader column: "No-one would argue Radio Scotland should never change, but these plans go against the wishes of the listeners who have no choice but to pay the licence fee. Is BBC Scotland in tune with the Scottish public it is there to serve?"
Mary Ann Kennedy is a musician, singer, composer, radio and television presenter, and music producer. 'Music is my earliest memory,' says Mary Ann Kennedy. 'I remember lying in bed at the family home in Glasgow listening to my mum, her sister and brother all singing together in the front room.'
Mary Ann Kennedy was born and raised in a Gaelic-speaking household in Glasgow. She studied piano at the Royal Academy of Music and Drama in Glasgow and continued postgraduate studies at the Royal Northern College of Music in Manchester where she majored on concert harp, while researching Gaelic mouth music.
In addition to Global Gathering, Mary Ann presents 'World on 3' on BBC Radio 3, and BBC Radio nan Gaidheal, and television programs on BBC Scotland/BBC Alba and BBC Four.
How to support Global Gathering
1) Sign the Petition for the retention of MAK's Global Gathering – http://www.change.org/petitions/radio-scotland-dont-cancel-mary-ann-kennedys-global-gathering-programme
2) Like the Facebook Community page for the program – http://www.facebook.com/pages/Friends-of-Mary-Ann-Kennedys-Global-Gathering/109164242545344
3) Contact the Head of BBC Radio Scotland and let him know your thoughts – jeff.zycinski@bbc.co.uk
Author:
World Music Central News Department
World music news from the editors at World Music Central