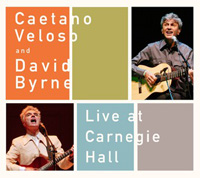 Caetano Veloso and David Byrne
Caetano Veloso and David Byrne: Live at Carnegie Hall (Nonesuch, 2012)
A long time in coming Caetano Veloso and David Byrne: Live at Carnegie Hall offers listeners a listen into Mr. Veloso's weeklong 2004 Perspectives concert series at Carnegie Hall's Isaac Stern Auditorium. Amassing 18 stunning live tracks from the concert, Caetano Veloso and David Byrne: Live at Carnegie Hall offers listeners an intimate into the music of Brazil's powerhouse talent Caetano Veloso and his collaboration with friend and fellow musician David Byrne best known as composer, musician and vocalist for the group the Talking Heads. Forget any ideas of this being an unlikely duo because this recording is wonderfully rich and engaging.
Mr. Veloso explains "When I got the invitation to curate a program for Carnegie Hall's Perspectives series … the one American artist I was sure I wanted to invite was David Byrne. I met David in the 1980s … [He] impressed me by the showing a very lively ear to whatever was on Brazilian radio. From our first conversation I noticed David was the first rock musician who could really feel the essence of Brazilian music … When I had to go on stage with him, I was not nervous, but I was very shy. You've got to Brazilian (or something of the like) to know how awesome it is to sing side by side with David Byrne."
Mr. Byrne is no less impressed with Caetano Veloso as he explains, "I'd been a Caetano fan since the late '80s, when I'd fallen headlong down the rabbit hole of Brazilian music. If I had to name some musicians to whom I would look as a guide to what is possible – those musicians who have managed to sustain a creative and interesting life in music – Caetano would be among the top few." He had his own case of nerves during the concert as he explains, "I was incredibly nervous, and I remember having flubbed a chord or two (some of those remain on this recording, I'm afraid) … but of course it was Caetano, and Carnegie Hall, so I was also incredibly thrilled and flattered."
This recording offers a warm, intimate setting for both musicians. Listeners are treated to Mr. Veloso's solo versions of "Desde Que o Samba e Samba," "Sampa," "O Leaozinho" and "Manhata." Mr. Byrne offers up solo versions of his own ""Everyone's In Love With You," "Life During Wartime," "God's Child" and a rousing "Road to Nowhere." The duo pairs up for "The Revolution," "Dreamworld: Marcos Canaveses" and "Heaven," but the real gem is the pair on "Um Canto de Afoxe para o Bloco do Ile."
Keeping to an acoustic sound with guitars and additional musicians of cellist Jacques Morelenbaum and percussionist Mauro Refosco, Caetano Veloso and David Byrne: Live at Carnegie Hall is inviting and elegant, allowing the music, the musicians and the interplay between Mr. Veloso and Mr. Byrne to shine through. One simply can't help be charmed with this collaboration from two ends of the musical spectrum.
Author:
TJ Nelson
TJ Nelson is a regular CD reviewer and editor at World Music Central. She is also a fiction writer. Check out her latest book, Chasing Athena's Shadow.
Set in Pineboro, North Carolina, Chasing Athena's Shadow follows the adventures of Grace, an adult literacy teacher, as she seeks to solve a long forgotten family mystery. Her charmingly dysfunctional family is of little help in her quest. Along with her best friends, an attractive Mexican teacher and an amiable gay chef, Grace must find the one fading memory that holds the key to why Grace's great-grandmother, Athena, shot her husband on the courthouse steps in 1931.
Traversing the line between the Old South and New South, Grace will have to dig into the past to uncover Athena's true crime.