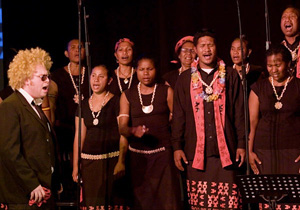 Unique is an oft-misused adjective in this modern world, but in the case of the musical collaboration involving piano prodigy and composer Aaron Choulai, a Papua New Guinean choir from his ancestral village, some of Australia's hottest young jazz soloists and visual elements, the word is truly applicable.
Choulai's background is as exotic and intriguing as the project that he leads. The albino son of a Chinese/Motuan mother and Jewish/Polish/Australian father, he has plied his trade as an international jazzman of repute from Melbourne, New York and, currently, Tokyo over the past decade. We Don't Dance For No Reason [Ai Na Asi A Mavaru Kavamu] brings together the various cultural strands of his life, primarily the stunning Peroveta Anedia (Prophet Songs) vocal tradition that is part of his heritage. "Everyone from the Papuan coastal regions and Motuan villages knows these songs," he says, "although each village has their own interpretation." Motuans are widely accepted to be the descendants of Polynesian immigrants who travelled to Papua New Guinea (PNG) as missionaries, bringing with them choral music that bridged bible stories and traditional tribal music.
Working with the mixed gender Tatana Village Choir from his island birthplace near Port Moresby has afforded Choulai a much-appreciated chance to reconnect with a heritage that's far removed from his lifestyle playing jazz in some of the world's biggest cities. "What I do professionally has nothing to do with who I feel I am culturally, so I felt like I had to keep putting on these different hats." With We Don't Dance For No Reason he has been able to combine the contrasting realms.
The plan for his unique multicultural, multimedia enterprise was hatched after a conversation with then piano teacher, mentor and now close friend Paul Grabowsky, one of Australia's most respected jazz men, when Choulai was still in his teens. "I played him a tape of the choral music from PNG, and he seemed to be excited about it. A few years later, as the artistic director of the Queensland Music Festival, we talked about it again and with his guidance, we came up with the skeleton for the show."
Invited to describe his hybrid in a nutshell, Choulai says: "It's new music … modern Papuan art music, modern jazz … whatever you'd like to call it." He expands: "The musicians improvise solos based around harmonic structures and form, and sometimes are also required to improvise freely. The intent behind the music is to move forward, to find something new as musicians." The videos that accompany We Don't Dance For No Reason, he says, provide a window into Motuan life. "You get a brief history of Papua, insights into Motuan culture and some understanding of the social and political situation in PNG at the moment. But most importantly, hearing the choir, I'm sure audiences see how important the role of music is in Motuan societies and the pure joy it brings to the Motuans."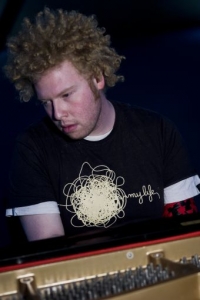 Like anybody on a first gig, the choir was nervous when they made their debut at the 2007 Queensland Music Festival, although Choulai says that from the beginning they have been "very professional" about the whole experience. "That has made them very easy to work with — much easier than some 'old stagers' I have performed with from Australia, America and Japan!" He reports that We Don't Dance For No Reason, which has since been performed at the Melbourne International Arts Festival, WOMADelaide and the Australasian World Music Festival, has changed somewhat in terms of how the music gets written. "Now, in rehearsals we sometimes write as a group. The choir will ask, 'Can we play this song?' then we work as a group to find the medium ground between the jazz musicians and the singers."
When he started to compose the music, Choulai's guiding principle was that if he stayed honest to what he was hearing it would naturally all fall into place. While he admits communication wasn't always easy, he concedes he has been surprised in terms of how the villagers have taken to the idea of 'art'. "You have to understand that developing tradition, or pushing the boundaries of culture, does not come naturally to Motuans. I think before the village had a chance to hear the piece, people were a little suspicious of the project, but we did a large concert for everyone a few years ago at the arts theatre in Port Moresby, and since then, people seem to be understanding of what I am trying to do, and generally support me."
This prolific and versatile musician is currently writing a new piece for the PNG choir, which will be a Papuan take on the 'St. Matthew Passion'. He's also making beats and writing songs for singers such as Ngaiire and some rappers in Japan, as well as performing original music with his quintet in Tokyo. He's also trying to release a new album every month for free download on his website: aaronchoulai.com.
• The above interview first appeared in Rhythms, Australia's only dedicated roots music magazine, for which the author is World/Folk correspondent.
Author:
Tony Hillier
Tony Hillier is an Australia-based freelance music writer, broadcaster, musician, MC and band leader. He writes album and concert reviews and feature articles for The Australian (the country's only bona fide national newspaper) and Rhythms (Australia's only dedicated national roots music magazine) and prepares/presents weekly programs for the national broadcaster (ABC) and community radio. He is also a member of the Transglobal World Music Chart (TWMC) panel.