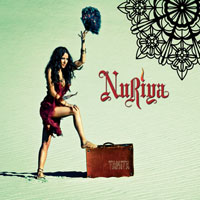 World music writer Evangeline Kim shares her list of Top World Music Albums of 2011. Evangeline is writer/contributing editor for National Geographic Music, TRACE Magazine, Afropop, Giant Step, Songlines Magazine and occasional contributor to World Music Central.
Top World Music Albums of 2011
Brazil: Baiana System – Ao Vivo Em 20 De Maio De 2011, Shanghai (Import)
Brazil: The Rough Guide to Brazilian Cafe (World Music Network)
Brazil: Red Hot + Rio 2 (Red Hot Organization)
Cambodia: The Cambodian Space Project – 2011: A Space Odyssey (Metal Postcard)
Cameroon: Blick Bassy – Hongo Calling (World Connections)
Colombia: The Original Sound of Cumbia (Soundway)
Cuba: The Creole Choir of Cuba – Tande-La (Real World Records)
Dominican Republic: Bachata Legends (iASO)
England: Andrew Cronshaw – The Unbroken Surface of Snow (Cloud Valley)
Finland: Arto Jarvela – Avovireessa Cross-tuned (OArt Music)
Iran: Sussan Deyhim – City of Leaves (Venus Rising)
Israel: Yasmin Levy – Sentir (Four Quarters Entertainment)
Mali: Ballake Sissoko and Vincent Segal – "Chamber Music" (Six Degrees)
Mali: Bombino – Agadez (Cumbancha)
Mali: Fatoumata Diawara – Fatou (World Circuit Import)
Mexico: Nuriya – Tanita (Musica Almaya)
Morocco/Spain: Amina Alaoui – Arco Iris (ECM)
Norway: Ragnhild Furebotten – Never On A Sunday (Ta:lik)
Norway: Sinikka Langeland – The Land That Is Not (ECM)
Norway: Dei Beste Damene – Soli (Ta:lik)
Compilations: Rough Guide to Sufi Music (World Music Network), Rough Guide to African Guitar Legends (World Music Network), Rough Guide to World Lullabies (World Music Network), African Beat (Putumayo); Kids World Party (Putumayo)
Special Mention: Putumayo Kids Coloring Books & Sticker Collections: Africa, Latin America, Europe
You can read the Best of 2011 lists from other world music writers here.
Author:
World Music Central News Department
World music news from the editors at World Music Central