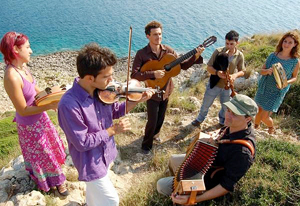 The 2012 edition of the world music festival and showcase globalFEST will take place January 8, 2012 at New York City's Webster Hall.
globalFEST 2012 includes three U.S. debuts, as well as several new programs and approaches from a respected global performers:
BélO: Haiti's acoustic innovator and social activist channels his home's deep and diverse Afro-Caribbean roots with catchy, reggae-inflected songs.
Canzionere Grecanino Salentino, one of southern Italy's hottest bands, revitalizes the ancient ritual pizzica tarantata, said to cure the deadly spider's bite with frenzied trance dances.
Debo Band: Boston-based crew reinvents the Golden Age of Ethiopian and East African funk and jazz.
Diogo Nogueira: Brazil's red-hot samba (and television) star adds a contemporary twist to the beloved rhythms of Rio.
M.A.K.U. Sound System: Queens, NY-based Afro-Colombian underground band's roaring guitars, bold brass, and hard-hitting Latin beats and vocals bring down the house.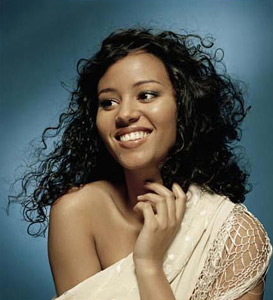 Mayra Andrade: Golden-voiced Cape Verde-born singer brings a Parisian and Brazilian flair to her island roots with a new acoustic trio.
Silk Road Project Ensemble: An international collective of virtuoso musicians from Japan to the Mediterranean and in between continue founder Yo-Yo Ma's musical legacy on their own, exploring the world's oldest trade routes in unexpected ways.
SMOD (U.S. Debut): Malian folk rappers, featuring the son of Amadou and Mariam, work serious lyrical flow to create Afro-Rap and pop, wrapped in Manu Chao's signature production.
The Gloaming (U.S. Debut): Irish and American roots supergroup (Martin Hayes, Dennis Cahill, Iarla Ó Lionaird, and Caoimhín Ó Raghallaigh with New York's indie pianist Thomas Bartlett (aka Doveman), marries edgy but harmonious, sparse yet beautiful elements to age-old and new tunes.
Wang Li (U.S. Debut): France-based Chinese jaw harp master-improviser creates wildly unexpected and deeply meditative melodies, discovering the infinite nuances that breath, tongue, and throat can make.
Wonderland: Featuring Turkish virtuosi of the Taksim Trio (Hüsnü Senlendirici: clarinet, Ismail Tunçbilek: baglama, and Aytaç Dogan: kanun) and East Village nu-jazz-world-dub club Nublu's mover-and-shaker, multi-instrumentalist Ilhan Ersahin, Wonderland's global music artfully unites Turkish, Kurdish, Gypsy and Armenian grooves into soulful delights.
Yemen Blues: Yemeni-Israeli electrifying singer and his global band make Middle Eastern sounds rock and soar.
Though many of this edition's artists have taken up the torch from family members or musical mentors, they are reaching into new sonic territory. globalFEST, as the United State's vital world music springboard event coinciding with the annual Arts Presenters Conference (APAP), aims to bring musicians to ears and even into venues once closed to global artists.
"In addition to summer rock and folk music festivals, we've started to see an embracing of world music throughout the performing arts field, including more traditionally classical venues," explains festival co-organizer Bill Bragin (Acidophilus: Live and Active Cultures). "Many of this year's globalFEST artists are performers who would be appropriate in more traditional concert halls, which are responding to the desire to diversify their programs."
The goal of access has been at the heart of the festival's mission since it was founded post-9/11, when dedicated global music presenters looked to restart the stalled influx of international music at a crucial moment.
"globalFEST needs to constantly be aware of its mission," continues co-organizer Isabel Soffer (Live Sounds). "We spotlight artists we believe presenters will want to book, will be successful in their venues and will bring new audiences. Our curatorial decisions are made with this in mind, and in this way, we feel we can encourage presenters to rethink artists that are on tour."
With support from the Ford Foundation, the globalFEST Touring Fund is launching to support festival alums on U.S. tours, as well as creating a new program to reimburse festival performers for expenses related to their globalFEST appearances. This, added to ongoing support from founding sponsor, the Cultural Services of the French Embassy, will strengthen the festival's ability to find uncommonly good, often unheard sounds and bring them to the States.
"Starting this edition, we will be able to offset some of our artists' expenses, the cost of coming to New York to play a showcase festival," notes globalFEST co-organizer Shanta Thake (Joe's Pub at The Public Theater). "It will encourage musicians and expand the pool of artists who can commit to that investment. We are excited about the possibilities these new programs will create to widen globalFEST's geographical and musical scope."
"Global citizenry is a priority for France , and for many people worldwide. We support globalFEST in hopes of sharing the multicultural musical heritages of France-based, France-produced and Francophone artists," says Emmanuel Morlet, Director of the Cultural Services of the French Embassy, the festival's on-going supporter since its first edition. "From increasing cultural understanding to the real economic role the festival plays for emerging performers, now more than ever globalFEST plays a great role in connecting people across political boundaries." And gets them dancing while doing it.
www.globalfest-ny.com/buy-tickets (tickets go on sale November 2nd)
Author:
World Music Central News Department
World music news from the editors at World Music Central