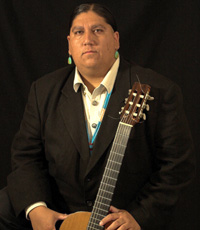 The Winners for the 13th Annual Native American Music Awards were announced live on Friday, October 7th, 2011 in the Events Center of the Seneca Niagara Hotel & Casino in Niagara Falls, New York.
Guitarist Gabriel Ayala (Yaqui) won the Artist of the Year for his album Passion Fire & Grace. The Best Traditional Recording award went to The Gift of Life by Randy Wood. Rhonda Head's Kayas won the Best World Music Recording award, Cody Blackbird won the Flutist of The Year award with his album The Journey, and Best Pow Wow Recording went to Black Thunder Singers' Black Thunder. For a complete list, read below.
Winners were selected by the combined votes of the Native American Music Awards (N.A.M.A.) Advisory Board Membership Committee with an international general public voting membership. General Public voting was open on the Awards website VOTE NOW page where music tracks of all nominees were featured.
Both new and established artists shared the list of winners throughout a diverse array of over 30 music categories spanning all genres. A new category was launched this year for Best Latin American Indigenous Recording. This is the second consecutive year that N.A.M.A. has added a new Awards category. Last year's Awards program introduced a new music category for Best Waila Recording. Over 200 CD and DVD recordings submitted this year for nomination consideration. This year's Awards celebration kept its promise to be unlike any before.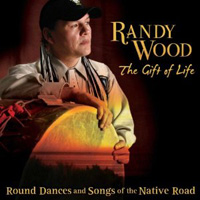 Hosted by Ted Nolan, who was presented with a Jim Thorpe Sports Award, the Awards ceremony featured performances by: Bill Crouse & The Allegany River Dancers, Buddy Big Mountain, Best Pop Recording Artist recipient Dylan Jenet Collins, Best Blues Recording recipient, Marc Brown & The Blues Crew, Group of the Year recipient, Pipestone, Artist of the Year recipient Gabriel Ayala, 2011 Hall of Fame Inductess Nokie Edwards (The Ventures) and Keith Secola as well as a closing performance by 2009 Hall of Fame Inductee Janice Marie Johnson.
The Awards featured its first house band, Edko & The Brotherhood, who performed flawlessly throughout the program. Special guest performers included; Flutist of the Year recipient, Cody Blackbird, who joined Nokie Edwards, and nominee Frank Anakwad Montano and multiple NAMA award winner, Joanne Shenandoah who joined Keith Secola.
The Native American Music Awards & Association is the world's largest professional membership-based organization committed to honoring contemporary and traditional American Indian music initiatives.
Complete list of official winners from the 13th Annual Native American Awards:
Artist Of The Year
Gabriel Ayala
Passion Fire & Grace
Best Blues Recording
Marc Brown & The Blues Crew
Indian Rock 'n Roll
Best Compilation Recording
Various Artists
The Color of Hope
Best Country Recording
C.C. Murdock
Native Heart
Debut Artist Of The Year
Bear Fox
Rich Girl
Debut Group Of The Year
October Soul
Don't Turn Back
Best Female Artist
Becky Thomas
Sacred Ground
Best Folk Recording
Don Amero
The Long Way Home
Flutist of The Year
Cody Blackbird
The Journey
Best Gospel Inspirational Recording
Yvonne St. Germaine
My Jesus I Love Thee
Group of The Year
Pipestone
As The Rez Turns
Best Historical Recording
Jack Gladstone
Native Anthropology – Challenge, Choice and Promise in the 21st Century
Best Instrumental Recording
Vince Fontaine
Songs For Turtle Island
Best Latin American Recording
Luis Capcha Vilchez
Indians Colour
Best Male Artist
Gary Small
Wyoming (For Dummies)
Best Native American Church Recording
Kevin Yazzie
Love Songs of the Native American Church
Best New Age Recording
Golana
Hymns
Best Pop Recording
Dylan Jenet Collins
Hear Our Prayer
Best Pow Wow Recording
Black Thunder Singers
Black Thunder
Best Producer
Stephen Butler
Handprints of Our People
Best Rap/Hip Hop Recording
Scars and Bars
Nake Nula Waun
Record of The Year
Shelley Morningsong
Full Circle
Best Rock Recording
The Blessed Blend
Tribal Thunder
Song Single Of The Year
Joseph FireCrow, Thomasina Levy & Others
Out of Many We Are One
Songwriter Of The Year
Josh Halverson
These Times
Best Spoken Word Recording
Harvey Arden and Leonard Peltier
My Life Is My Sun Dance
Best Traditional Recording
Randy Wood
The Gift of Life
Best Music Video
Jan Michael Looking Wolf
Various Artists
Live As One
Best Long Form Video
Tony Redhouse
Journey To Soul Blessings
Best Waila Recording
Native Thunder
Timeless
Best World Music Recording
Rhonda Head
Kayas
Native Heart
Bernhard Wolfsheart Weilguni
Call of the Canyons
Hall Of Fame
Keith Secola
Hall Of Fame
Nokie Edwards
Jim Thorpe Sports Award
Ted Nolan
Author:
World Music Central News Department
World music news from the editors at World Music Central