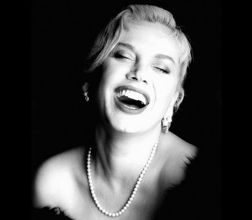 Sezen Aksu, one of the most popular singers in Turkey, is set to perform on Thursday 20 October at The Royal Albert Hall in London.
Ranked amongst the world's best singers, alongside Billie Holliday, Freddie Mercury and Placido Domingo in the U.S. National Public Radio 50 Great Voices series, Sezen Aksu is a diva whose voice touches the soul whether or not one understands the language of her deeply poetic lyrics.
See her with an all-star acoustic band featuring Grammy-nominated pianist Fahir Atakoglu, and Turkish master musicians Göksun Çavdar (clarinet), Özer Arkun (cello), Fatih Ahiskali (guitar), Mustafa Boztüy (percussion), together with Jarrod Cagwin (percussion) and Eric van der Westen (bass).
Her most recent album is Öptüm.
Royal Albert Hall Box Office: 020 7589 8212
Book online: www.royalalberthall.com
Author:
World Music Central News Department
World music news from the editors at World Music Central