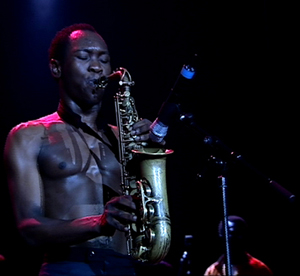 Imbued with his late father's indomitable spirit and emboldened by the inheritance of Fela Anikulapo Kuti's band and middle name, Oluseun Anikulapo Kuti is poised to take over the mantle of afrobeat's main man from his half-brother Femi.
After a somewhat tentative and tame opening statement, the youngest son of the genre's patriarch and high priest has made a bold declaration of intent with his sophomore CD. Compared to Kuti junior's debut 2008 release, Many Things, the new album, From Africa With Fury: Rise, is as unequivocal and uncompromising as the title implies. With broadsides aimed at endemic government and corporate corruption in Africa in general, and Nigeria in particular, it draws a figurative line in the sand — all but crowning Seun as the rightful successor to Fela Kuti's throne.
Although still in his twenties, Seun (pronounced "Shehoun") has been leading Egypt 80, Fela's former band, for more than a decade. At the tender age of eight, he used to open his father's shows while his mother danced and sang in the chorus. When Fela Kuti died from AIDS-related complications in 1997, his teenage son took over the band.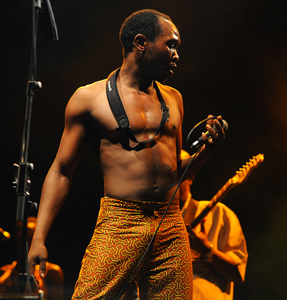 Bare-chested with 'Fela Lives' tattooed on his back, Seun moves and grooves like his legendary father on stage, channelling the original raw essence of afrobeat. While he admits to feeling Fela's presence when he performs, Seun denies imitating his movements or vocal intonation. "I think I sound quite different from my dad, but the movements were the ones he created for afrobeat so I'm just doing it right, I guess. We express our instrumental voice differently." In terms of the sentiments expressed in the songs and the rhythmic intensity, Seun concedes there is a close similarity between his and Fela's music. "He was the creator of afrobeat and so therefore I am mostly influenced by his music," he says. "Basically the same things are happening in Africa today that were happening 40 years ago when my father was songwriting, although in different ways. So when I write my music, it's from the perspective of a 27-year-old man living in 2011, instead of a 30-year-old man living in the 1970s," Seun adds.
While Kuti's pull-no-punches tirades against the Nigerian government in Rise are bound to inflame the regime, he says he has no intention of leaving Lagos. "The city inspires me mucho!" he defiantly declares. Well aware of afrobeat's capacity to communicate and educate, Seun seems determined to speak directly to the new generation of Nigerians and Africans. "Music has great impact on people's feelings," he says. "That's what music should be. But pop music today is all about me, me, me; nobody is singing about we. Nothing can change if we don't look out for our brothers and sisters. We all see how difficult life is for the majority of Africans, so I sometimes despair. While I know with time Africans will get the governance they deserve, the truth is we have to fight for it."
In the new album's most acerbic song, 'Rise' Kuti exhorts his people to fight "the petroleum companies" that "use our oil to destroy our land," "the diamond companies" that "use our brothers as slaves for the stone," and "companies like "Monsanto and Halliburton" which "use their food to make my people hungry." He certainly doesn't seem to fear retaliation from the US-based multinationals: "What are they gonna do? Make a song together and say I'm corrupt? They have no comebacks. They need to look within their evil empires and see if they can change before their deeds catch up with them."
Warming to the subject, he continues: "In Africa today, most people are struggling in silence. The systematic oppression of the people has made them blinded to their reality. Everybody's just thinking about survival. Nobody wants to stand up for anything; everybody just wants to tow the line. So I'm trying to make people think about these things that they are forgetting. I want to inspire people to want things to change."
By design, Rise, via the title track itself and equally righteous songs about struggle and injustice such as 'Mr. Big Thief" and 'Slave Masters', is altogether more powerful and provocative than its predecessor. "My last album, it was my first time in control. This time, I said, 'okay, I can be more confident in how I express myself; I can say what I want. I wanted to make a better album and to speak to my people a bit more directly than on the last album and tackle issues more directly instead of generalising."
Recording in Rio de Janeiro and recruiting Brian Eno and John Reynolds (Sinéad O'Connor, U2) as co-producers certainly helped distinguish Rise from Many Things in a musical sense. "Brian made it a great live music album," Sean opines. "He added new dimensions to our sound," says the bandleader, singer-saxophonist, songwriter and arranger, also acknowledging the contribution of guest guitarist Justin Adams. "The proof is in the pudding and as you can hear on the album, we made some good solos together."
With afrobeat and the family brand currently on the crest of a wave, courtesy of the success of the musical blockbuster Fela!, the hard-hitting new album should have the impact that its creator intended.
• The above interview first appeared in Rhythms, Australia's only dedicated roots music magazine, for which the author is World/Folk correspondent.
Author:
Tony Hillier
Tony Hillier is based in Cairns in far north Queensland, from where he has been actively involved in all areas of the music industry in Australia for the past 25 years, primarily as a journalist, writing for national publications such as the Weekend Australian and Rhythms magazine (for which he is World Music & Folk correspondent), and performing locally, nationally and internationally with the bands Kamerunga and Snake Gully. He has also presented and produced World Music and Folk music programs for ABC Far North, Port Douglas Radio and 4CCR-FM, netting a CBAA Best Specialist Music Program Award with the last-named for a documentary on flamenco. Before coming to Australia, he was a racing journalist of some repute in the UK, where he wrote a column for the London Evening Standard under the nom-de-plume of Ajax.