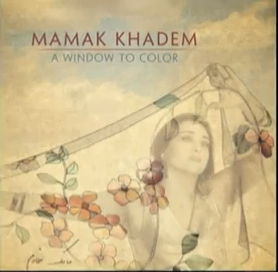 Mamak Khadem
A Window to Color (2011)
Wrap Mamak Khadem's vocals with clarinet, electric cello and oud surrounded by a tapestry of percussion and the soul soars. On her latest, A Window to Color, Ms. Khadem breathes life into eight wonderful tracks. Formerly of Axiom of Choice and the solo recording Jostojoo, Ms. Khadem is back to wow listeners with A Window to Color.
Bright and bold, A Window to Color is no wilted wallflower of a recording. No, these musical colors are savagely splendid with luminous splashes of oud, duduk, santur and Persian percussion. Of course, it is Ms. Khadem's vocals that turn these tracks to pure gold. Composing the music, Ms. Khadem transforms the poetry of the Iranian poet and painter Sohrab Sepehri into the lyrics for A Window to Color. Dipping into allegory, poetic prayers and pleas, Mr. Sepehri's poetry is especially evocative with a few spoken sections by Fereidoun Farahandouz that set off the musical backgrounds.
Opening with two "Shakpooy" tracks, A Window to Color dips into a lush sound that comes across as fresh and bright with electric cello, clarinet, oud and synthesizer, but turns jazzy with lanky sax lines on "At the Water's Edge." It is on "Invocation" where Ms. Khadem's stunning vocals will raise the hairs on the back of your neck against a backdrop of duduk and electric cello. The vibrantly colored "Rapture," the slyly silky sound of "From Green to Green" with its dashes of santur and clarinet and the lustrous vocals on "Water" are real treats on A Window to Color. With Mr. Sepehir's poetry center stage, closing track "A Call to Beginning" is both potent and poignant.
A Window to Color is mesmerizing and powerfully driven.
Author:
TJ Nelson
TJ Nelson is a regular CD reviewer and editor at World Music Central. She is also a fiction writer. Check out her latest book, Chasing Athena's Shadow.
Set in Pineboro, North Carolina, Chasing Athena's Shadow follows the adventures of Grace, an adult literacy teacher, as she seeks to solve a long forgotten family mystery. Her charmingly dysfunctional family is of little help in her quest. Along with her best friends, an attractive Mexican teacher and an amiable gay chef, Grace must find the one fading memory that holds the key to why Grace's great-grandmother, Athena, shot her husband on the courthouse steps in 1931.
Traversing the line between the Old South and New South, Grace will have to dig into the past to uncover Athena's true crime.