"World fusion music is a cross-cultural collaboration between master musicians" – Matthew Montfort of "Ancient Future"
Formed in 1978, Ancient Future is a long-running "musical organization dedicated exclusively to the mission of creating world fusion music." Led by guitarist and composer Matthew Montfort, the band has been described by Billboard magazine as "trendsetters" for their contribution to the blending of musical cultures around the world. Matthew joins us in this exclusive interview on trends in world music, the reunion of his band, and some of his unusual performing experiences.
Ancient Future has released seven full length studio CDs selling over 150,000 units: Visions of a Peaceful Planet, Natural Rhythms, Quiet Fire, Dreamchaser, World Without Walls, Asian Fusion, and Planet Passion. Ancient Future is also featured on samplers selling millions of units on labels such as Putumayo and Narada. Over the years, Ancient Future has expanded its musical vision through collaborations with master musicians from more than two dozen countries, cultures, and musical traditions who are now an integral part of what is today more than just a band.
Earlier this year in June, the exact lineup of Ancient Future that performed on the band's influential World Without Walls and Asian Fusion recordings reunited to perform for the first time in over 15 years at Yoshi's San Francisco and other venues. To celebrate the reunion, Capitol/EMI Records has released the first ever digital version of Ancient Future's classic 1990 World Without Walls recording. A live video of '14 Steps' was recorded on 6/7/2011 at Ancient Future's 'World Without Walls' Reunion Concert at Yoshi's San Francisco (see http://www.youtube.com/watch?v=Ro0VAo7a9BY).
The band's lineup includes Matthew Montfort (scalloped fretboard guitar, steel string guitars, electric guitars, classical guitar, guitar synthesizers, mandolin), Jim Hurley (acoustic violins, Zeta electric violin, steel string guitar), Doug McKeehan (piano, synthesizers), and Ian Dogole (dumbek, talking drum, congas, bongos, udu, shaker, bass drums, cymbal, sleigh bells, kendang, kajar, ceng-ceng, bells, chimes), guest musician Zakir Hussain (tabla, kanjira), Gary Brown (fretless electric bass), Jeff Narell (steel drums), Vince Delgado (tambourine), Jack Dorsey (drum set), Bill Douglass (acoustic bass, Chinese flutes), and Bruce Kaphan (recording engineer, shaker).
Q: Were you able to bring together every single one of the original lineup for your reunion?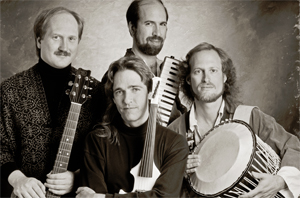 The lineup of Ancient Future that recorded 'World Without Walls' back in 1990 was Jim Hurley on violin, Doug McKeehan on keys, Ian Dogole on percussion, and myself on guitar. All of these musicians were able to make the reunion concert!
The record also features quite a few guest performers including tabla master Zakir Hussain and Bill Douglass on acoustic bass and Chinese flutes. I actually sent out invitations to some of the guest performers as well, but schedules and budgets didn't line up quite right. But there is interest for participating in future reunion shows.
Q: How many performers are there in your ensemble today?
There are more than 30 performers who work with Ancient Future, although not at the same time. Rather, we have about a dozen different programs available, each featuring different combinations of the musicians who are in the collective.
Q: What are some key ways in which world music has changed over the years: the genre, industry, audiences?
The term "world music" was actually coined by ethnomusicologist Robert E. Brown in the early 1960s at Wesleyan University in Connecticut. He used the term solely for the traditional music of the world, so it wasn't a genre, but rather a set of traditions. I studied with him at the Centre for World Music when it was in the San Francisco Bay Area in the late 1970's, and I coined the term "world fusion music" for music that combines ideas from many different traditions. I inserted the word "fusion" to distinguish what Ancient Future was doing from the traditional music of the world. It was really to respect the traditions that I made this distinction for a movement to create new music by learning from the great musical traditions of the world. World fusion also isn't a genre: it is a process by which new traditions are created.
In 1987, there was a music industry marketing meeting in Europe, and the term "world music" was chosen as a blanket marketing term that was used for both traditional and contemporary music from around the world. While it was wonderful that music from many different cultures now had some industry support, the blanket use of the term did create some confusion. For example, some reviewers without much real knowledge of world music traditions sometimes made judgements based mostly factors like country of origin and as a result promoted Western influenced pop music with low levels of musicianship as authentic world music, while deeming world fusion collaborations with a high level of musicianship as somehow inauthentic.
In the 1990s, the music technology movement made it possible for DJs to include samples of traditional instruments from around the world in their productions. These computer cut and paste collages were often marketed as world music or world fusion music. While I'm happy that at least some of the sounds of the world are becoming a part of contemporary pop music, this was not at all what I envisioned when I coined the term "world fusion music." I envisioned musicians studying the great traditions of the world and increasing their musical skills. I envisioned cross-cultural collaborations between master musicians that showed how ideas from different traditions could give birth to vital and artistically exciting new music. This is missing from low musical knowledge computer productions.
Technology has of course also had a major impact on the music industry, which has basically collapsed. We don't yet have a model to support the creation of content. Musical content can't be free and flourish. Gaining financial support for music is one of the greatest challenges musicians face at this time.
Educating audiences about world music traditions may be the key to the future of music, and indeed the future of humanity as the arts could show the way to cultures being able to appreciate the value of their differences. In the United States, Robert E. Brown did much to get that education process started by bringing master musicians from around the world to teach at universities. The marketing of the term world music in 1987 opened up a lot of people to music from cultures previously foreign to them. Before the post 9-11 polarization in the USA and the resulting fear of "otherness," Ancient Future was able to expose people from all walks of life and political preferences to musical ideas from outside of their normal comfort zones, and some of those people later became interested in some of the world music traditions that were the source material for our fusion music. But cuts in music education in schools during the over three decades that Ancient Future has been performing have left a smaller audience for music in general, and an even smaller audience that can appreciate artistic subtlety. So there is a lot left to do in terms of music education in the USA. But the Internet has made it possible for Ancient Future to interact with musicians and fans all over the world, and from these contacts we have been able to travel to perform in India, Europe, and the Middle East. Our youtube videos are especially popular in these areas.
Q: What new instruments and genres have you incorporated in your work over the years?
I am constantly studying music from different traditions, and I've been lucky to perform with musicians from India, China, Japan, Indonesia, Australia, Bolivia, Puerto Rico, Iran, Pakistan, Afghanistan, Kazakhstan, Spain, Turkey, Syria, Lebanon, South Africa, and Ghana, to name a few countries.
Ancient Future has utilized too many instruments to name here. I myself concentrate on plucked instruments, and over the years I've really settled on various unusual guitars as I have the most technique on that instrument. So I have a scalloped fretboard guitar that lets me use vina technique for note bends, and a fretless 11 string guitar that sounds like an oud.
Q: Which cities/countries have you covered in your reunion tour?
The reunion tour came about because Jim Ocean at the City of Concord Free Summer Concerts called me to offer Ancient Future a date at his summer series. And he wondered out loud if the same band that performed at that same series in 1992 could perform again. I was skeptical due to the rehearsals that would be required for just one gig, but I told him I would ask everyone. To my surprise, they all enthusiastically said yes and I was able to book a second show at Yoshi's San Francisco for the same evening, which helped make it worth everyone's time.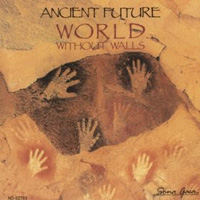 Those two concerts were all that were contemplated. But, 10 days before the reunion concerts, Capitol Records in a surprise move let me know that they were finally going to reissue our 'World Without Walls' recording as a digital download, and that they had scheduled it to coincide with our reunion concerts on June 7, 2011, which being a Tuesday was a drop date for digital releases.
This provided some big news to publicize to Ancient Future's media list, because that record was important in Ancient Future's career and we are happy to finally have it available to the public worldwide.
The two reunion concerts went very well, and with the reissue, we are looking at booking some more reunion concerts next year. We'll be letting presenters know of our availability starting this fall. It would be great to take the band outside the USA. We'll see what develops!
Q: Do you teach and conduct workshops on world music?
I wrote the book "Ancient Traditions – Future Possibilities: Rhythmic Training Through the Traditions of Africa, Bali, and India," which has been used by many musicians to improve their rhythm skills. I've taught many workshops centered on the book to students of all levels on all instruments. I also have students studying flamenco, jazz, and North Indian classical music on guitar. I'm working on a melodic training method covering world music traditions as well.
Q: What has been the most pleasing moment for you as a world music artist?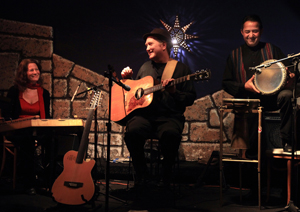 It is really hard to pick one. Playing music with Balinese rice paddy frogs in 1980 for the Natural Rhythms record. Working with Chinese gu zheng master Zhao Hui in preparation for the Asian Fusion record starting in 1991. Performing at the Festival Internacional de la Guitarra outside of Barcelona, Spain, in 2003 and 2005. Playing music in India in 2006 and 2008 with musicians like Swapan Chaudhuri, Pandit Habib Khan, Vijay Ghate, and Dr. Kadri Gopalnath. Performing with Vietnamese dan bau master Bui Huu Nhut on the Rachel Maddow Show on MSNBC in 2010.
Q: Did you record new versions of the old tracks during your reunion?
We haven't yet started any new studio recordings of the reunion lineup. This is one goal of the next Ancient Future record, which is the fan supported Archive of Future Ancient Recordings The idea is to create a large archive of live and studio recordings available to subscribers, a subset of which will be released to the public as the eighth Ancient Future release. Right now there are already seven tracks and over 50 minutes of live music in the archive, and we are just a few hundred dollars away from having raised the money to mix the first studio recording made for the archive, which features two of the original 1978 founding members of Ancient Future! And we will also soon be adding some live recordings from the June 7, 2011, reunion concert at Yoshi's San Francisco.
Q: Where do you get your inspiration from for your compositions?
It is really through the study of world music traditions. This increases my musical skills, and builds models in my brain. Nature, love, social issues, or a dramatic story may act as an inspiration and then all of the studying I've done comes together in my subconscious and there is a sudden moment when a composition idea will just come to me.
Q: How well is the re-mastered digital CD doing? Do you plan a DVD along with it?
Capitol Records just reissued it as a download only. But already 'Gopi Song,' which features Zakir Hussain on tabla, is Ancient Future's number one download on Amazon.com.
We are going to be including some videos from the reunion concerts as part of the Archive of Future Ancient Recordings. There will be a DVD-R available to subscribers. When the whole project is completed, which will likely take several years, we will decide what portion of it to release to the public and if a commercial DVD release is warranted.
Q: What is your message to your audience?
That cross-cultural collaboration has many social and artistic benefits, and that we should learn about each other's traditions!
Author:
Madanmohan Rao
Madanmohan Rao is an author and media consultant from Bangalore, and global correspondent for world music and jazz for World Music Central and Jazzuality. He has written over 15 books on media, management and culture, and is research director for YourStory Media. Madan was formerly World Music Editor at Rave magazine and RJ at WorldSpace, and can be followed on Twitter at @MadanRao.