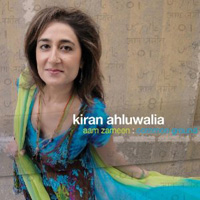 Kiran Ahluwalia
Aam Zameen: Common Ground (Avokado Artists Recordings/Ais, 2011)
The Indian Canadian artist Kiran Ahluwalia is a female powerhouse on the world music scene with recordings such as the self-titled Kiran Ahluwalia and Wanderlust to her credit, as well as collaborations with the Chicago Sinfonietta, Tanya Tagaq, Delerium and Eccodek. For her latest Aam Zameen: Common Ground, Ms. Ahluwalia teams up with the Tuareg group Tinariwen to fuse the desert blues with her own brand of Indian song.
Kicking off Aam Zameen, Ms. Ahluwalia goes straight for the good stuff with a rousing version of Nusrat Fatah Ali Khan's "Mustt Mustt. Packed with dishy vocals by Ms. Ahluwalia, that signature rootsy Tinariwen sound and some ululations that will send shivers up your spine, this track is spectacular.
Fans are treated to a dreamy version refashioned into "Mustt Mustt Redux" and a closing extended "Mustt Mustt." The gems stack up on Aam Zameen with the flowing strains of "Rabba Ru," the exotically evocative "Raqba" and the sweetly colored "Matadjem." There's even a little funk thrown in at the opening of the Indian saturated "Zindagi." Aam Zameen turns out a truly collaborative fare with nods to Ms. Ahluwalia's roots with the infectious rhythms of India and guitar lines of Tinariwen's Saharan desert blues sound. The effect is potent and deeply satisfying.
In addition to Tinariwen and Ms. Ahluwalia's band, Aam Zameen shows off the excellent musical expertise of guest musicians from the Tuareg group Terakaft and Gambian ritti player Juldeh Camera (again, with the shivers up your spine). If that weren't enough, Justin Adams lends his guitar work and acts as co-producer along with Rez Abbasi, with Peter Moore of Cowboy Junkies fame to master the recording
Ms. Ahluwalia has unearthed a magical mix on Aam Zameen.
Author:
TJ Nelson
TJ Nelson is a regular CD reviewer and editor at World Music Central. She is also a fiction writer. Check out her latest book, Chasing Athena's Shadow.
Set in Pineboro, North Carolina, Chasing Athena's Shadow follows the adventures of Grace, an adult literacy teacher, as she seeks to solve a long forgotten family mystery. Her charmingly dysfunctional family is of little help in her quest. Along with her best friends, an attractive Mexican teacher and an amiable gay chef, Grace must find the one fading memory that holds the key to why Grace's great-grandmother, Athena, shot her husband on the courthouse steps in 1931.
Traversing the line between the Old South and New South, Grace will have to dig into the past to uncover Athena's true crime.