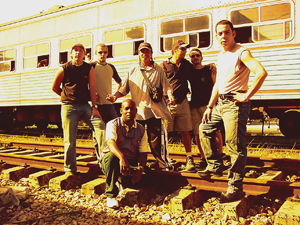 Collisions is a new series bringing the best in culturally diverse and contemporary music to Cardiff (Wales) in the fall of 2011. Collisions will feature international stars of world, fusion, folk music, jazz, and funk.
The series, which takes place in The Royal Welsh College (RWCMD)'s newly opened Dora Stoutzker Hall, starts with Asere, the young musical stars of Havana, on Friday 23 September. Following the release of their acclaimed album, Blissful Ignorance, Meadow appear on 20 October. Moishe's Bagel bring their rip-roaring, foot-stomping klezmer and Balkan music to the College on 28 October, and on 9 November RWCMD invites audiences on a fascinating magical journey with Ruth Wall: The Girl with 3 Harps. The season concludes on 12 November, in riotous fashion with Blazin' Fiddles, one of the most exciting and memorable fiddle ensembles ever to take the stage.
"I'm delighted to be instigating a contemporary music performance strand at the college," said Andrew Miller, Head of Creative Programming. "We've called it Collisions as it will represent a real mix of cultures and music that will be new territory for us. The series will offer audiences new experiences, experimentation and, we hope, inspiration, and takes the College in a different direction from our traditional program of classical music and opera – and will also showcase our fantastic new hall."
The Royal Welsh College of Music & Drama opened its £22.5 million new performance and rehearsal spaces in June this year. The world-class facilities include The Richard Burton Theatre, The Linbury Gallery, a café bar, rehearsal studios, and The Dora Stoutzker Hall.
All events are in The Dora Stoutzker Hall, RWCMD
Friday 23 September 7.30pm
Asere
Asere are the young musical stars of Havana and they return to Europe this Autumn for an extensive tour. With brilliant original songs along with classic Latin salsa and Cuban soul, Asere create a unique and soulful Cuban music, bringing a mix of roots and rhythms to a modern world. Asere celebrate a cultural brotherhood, born of a uniquely Cuban perspective; they have a profound musicality, and a collective energy that is truly inspiring.
Tickets £15, £13 concessions
Thursday 20 October 7.30pm
Meadow
Three of Europe's finest and most sensitive players, Taylor (piano), Brunborg (saxophones) and Strønen (drums) feature together, following the release in February of their acclaimed album Blissful Ignorance. If the group's name suggests some kind of pastoral idyll, then so be it. But there's no sentimentality or fey romanticism about Meadow. This music has the wisdom, honesty and vigour that is borne only of experience. Meadow will be supported by the acclaimed duo of Andrew McCormack & Jason Yarde.
Tickets £12, £10 concessions
Friday 28 October 8pm
Moishe's Bagel
Rip-roaring, foot-stomping, jazz-inflected klezmer and Balkan music from some of Scotland's finest musicians. An intoxicating, life-affirming mix of Eastern European dance music, Middle Eastern rhythms and virtuoso performances.
Tickets £13, £12 concessions
Wednesday 9 November 7.30pm
Ruth Wall: The Girl with the 3 Harps
Ruth's performances take the audience on a fascinating musical journey from Handel to Arvo Part. Ruth performs music on the Gaelic wire strung harp, Renaissance bray harp and Scottish lever harp by key composers from the past such as the legendary Irish harper O'Carolan as well as haunting new works by Graham Fitkin.
Tickets £12, £10 concessions
Saturday 12 November 8pm
Blazin' Fiddles
From remote village halls to the Royal Albert 'Village' Hall, Blazin' Fiddles have delighted audiences with their highlands and islands fiddle music and tales. Fiddles and bows blaze away with guitar and piano for one of the most exciting and memorable fiddle ensembles ever to take the stage.
Blazin' Fiddles are Allan Henderson – fiddle, Iain Macfarlane – fiddle, Catriona Macdonald – fiddle, Bruce MacGregor – fiddle, Anna Massie – guitar, fiddle, Andy Thorburn – piano
Tickets £18, £15 concessions
Author:
World Music Central News Department
World music news from the editors at World Music Central