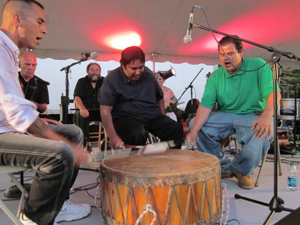 The 2nd annual Rustic Rhythm Music Fest brought several different sounds from different cultures to the Boulder Junction Ball Park (Boulder Junction, Wisconsin) on Saturday, August 27th. Under sunny skies, Different Drums of Ireland, Ojibwe singers and dancers from Lac du Flambeau, and Copper Box delivered a memorable day of music festival magic.
The first Rustic Rhythm Fest was held one year ago. The concept of this unique festival originated as a dream of Boulder Junction resident Molly Hegeman, owner of The Homestead. Hegeman knew of the conflict in the past between the communities of Lac du Flambeau and Boulder Junction, a result of the Walleye Wars of the 1980s. She decided it was time to improve relations between these two different communities and cultures, by borrowing an idea from a musician friend from Derry, Northern Ireland.
Roy Arbuckle experienced similar strife in his homeland. IRA bombings, revenge killings and shootings in a capital city (Belfast) divided by a wall were regular occurrences until the late 1990s. Arbuckle had begun a quest in 1991 to use drums and music as the way to unify the conflicting religious groups- Catholic Nationalists and Protestant Unionists- of Ulster (Northern Ireland). He used the huge Lambeg drum to symbolize Protestants, and the hand-held Bodhran drum to represent Catholics. "Bringing them together in song and laughter onstage showed that the two sides could co-exist." He said. The band Different Drums of Ireland was formed. The band has evolved into a world-renowned symbol of unity and master musicianship.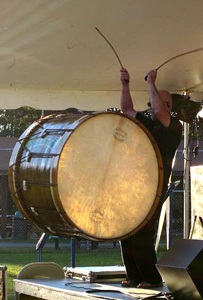 Hegeman envisioned a music festival with Arbuckle's band Different Drums of Ireland, traditional Ojibwe singers, dancers, and drummers from Lac du Flambeau, and local musicians from the Boulder Junction; brought together in one day on one stage. She presented this concept to the Boulder Junction Chamber, Lac du Flambeau Tribe, and began planning the festival in March 2010.
The first annual Rustic Rhythm Festival was held in late August 2010, and was an immediate success. Different Drums highlighted, with the Ojibwe singers/drummers/dancers, and a local bluegrass band played to a small crowd. Vendors from both communities selling food, art, etc. representative of their cultures were also brought together at the festival.
This year, the crowd was much larger and the amount of vendors doubled. Zydeco, Cajun, Ojibwe drumming/singing, Celtic, folk, world beat and more could be heard reverberating through the trees around the ball park grounds.
Different Drums returned, on the last leg of their summer US tour that included Milwaukee's Irish Fest.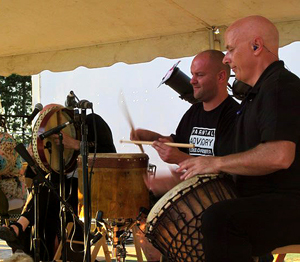 Different Drums originally had 5 members, all from Northern Ireland: Roy Arbuckle, Stephen Matier, Paul Marshall, Richard Campbell, Dolores O'Hare. Musician Noel Lenaghan joined this summer and came along on their recent tour. Lenaghan brings Different Drums to a new realm; he combines original storytelling with plenty of Gaelic words thrown in, old world vocals and guitar, accompanied by a voice that transcends time. Combined with the drums and low and high pennywhistle of Dolores O'Hare, Different Drums now has its own unique and well-rounded sound. "It's almost too beautiful, this experience of being up here in the North Woods." Lenaghan said, "I have so many people to thank. It's good craic."
Hegeman and Theresa Smith, Executive Director of the Boulder Junction Chamber of Commerce, will be working with Lac du Flambeau's Abbey Thompson to present the Third Annual Rustic Rhythm Music Festival in August 2012. Different Drums will return, and Thompson hopes to bring her friends Yonder Mountain String Band and Trampled By Turtles, to join the lineup.