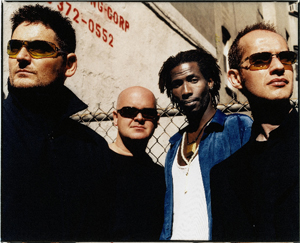 If there's such a beast as the quintessential WOMAD act it must assuredly be the Afro Celt Sound System. That's no idle claim dreamed up by an indolent journalist in search of an angle. The Afro Celts are irrevocably and inextricably bound up with Peter Gabriel's World Of Music And Dance festivals.
The collective was actually launched from the WOMAD mother ship in the UK in 1995, back in the days when the event was held at Reading. Coincidentally, the band's debut corresponded with this scribe's one and only appearance at said festival. In fact, showing uncharacteristic prescience, I recall relinquishing a prime position at one of the bigger stages, where a big-name was in action, to investigate some intriguing sounds emanating from the Whirlygig tent. It was a case of love at first byte, and three subsequent sightings of the band, in 1997 and 2001 and this year, at WOMADelaide, Australia's very own branch of the WOMAD franchise in Adelaide's leafy Botanic Park, have only served to confirm them as one of the most exciting live acts I've seen in a lifetime of concert-going.
The Afro Celts' synchromesh of Irish, African and Indian rhythms and electronic beats locked into hypnotic grooves has arguably set the benchmark for modern fusion. But unravelling the folds of their musical quilt is like trying to find the beginning of a knot. There are myriad elements and they all overlap. Those familiar with their template will know how modern doof dovetails with time-honoured Celtic tradition in the band's bubbling cross-cultural cauldron. How Gaelic airs on lush keyboard beds morph subliminally into wicked West African rhythms. How Irish bodhran, Indian dhol and African talking drum harmoniously co-exist with programmed percussion, and kora, uilleann pipes, fiddle, whistle and other organic instrumentation are in symbiosis with synthesizer washes and ethereal sean nos singing. Each member of the Afro Celt Sound System plays a key role, and yet, like all great bands, the sum is magnificently greater than the various parts.
English guitarist/programmer Simon Emmerson, the Afro Celts' instigator and studio mastermind, and Irish vocalist Iarla Ó'Lionáird, who has played an increasingly active role in the band's development over the years, offer different reasons for the music's coherence and the collective's on-going popularity.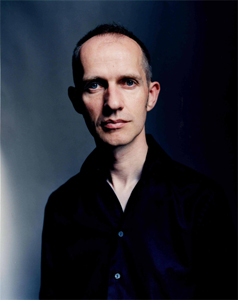 On line from his home in Kilkenny, Ó'Lionáird, whose voluble conversation belies his soft, seductive singing style, asserts: "What we've always tried to do is focus on performance and write material that holds together as a song or as a tune. You try things and you bring them to a certain level and then if they don't graduate, if they don't sparkle naturally, there's no point proceeding with them. We always have far more tracks on any given album that don't make the cut. There's always some exploration."
Speaking from his abode in the Dorset village of Broad Windsor in England's west country, Emmerson is a tad more specific. "When we started, just looping a drum was a time intensive process. Making beats that way was something that was new and fresh and it was a kind of skill that I think the mainstream music press didn't appreciate. Right from the word go, we were making our own loops and finding ways of creating new music out of bodhran and talking drum loops."
Emmerson had experimented with the technique while producing Senegalese singer Baaba Maal's breakthrough album Firin' in Fouta a few years earlier. "I brought Donal Lunny over from Ireland to try some ideas, so that album very much predicated the Afro Celts. There are obvious intersections that I heard when I first went to Senegal in 1992 to work with Baaba Maal. You get a lot of triplets; you get a lot of rhythm patterns based around the lilting, bubbling rhythm that you get on the Irish drum, the bodhran and throughout Irish music. When we sat in the Real World studio in Wiltshire in '95 to record our first album and people came in and played over the top, we knew we had a very good basis," he says. And yet Emmerson had no real inkling that the session in question would lead to such success and longevity.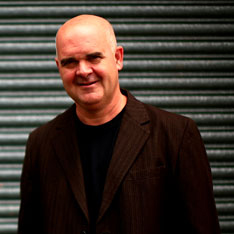 "If someone had told me that six years later we'd have sold a million and a half records and be headlining festivals all around the world, I just would have said: 'This is impossible'," Emmerson concedes. "We weren't a band then; we were a project. How could it be logistically possible, let alone musically possible? My roots were very much in the alternative club scene. There was this amazing period in '95 when you had bands like Transglobal Underground, Fundamental, Baka Beyond and the Afro Celts. We didn't fit comfortably under the label world music, which had kind of been invented on our behalf by a group of marketing people to get a category that record shop owners could use. But there was this incredibly creative upsurge in global music and global culture, and we tapped into that. However, it was still a very underground thing; something that existed on the festival scene and the post acid house scene. I didn't think it would go much further than maybe WOMADs.
Bringing the Whirlygig venue in was kind of a turning point for the festival because you got the parents turning up to see the established African acts, then you got their kids coming along as well 'cos they wanted to go to the Whirlygig. It was the Irish contingent in the band — Iarla Ó'Lionáird, James McNally and Ronan Browne — that said to me: 'This could be huge'. They'd seen music that started in the pubs of Ireland become international. James is very important in all of this. He said: 'Look, we've got to tighten up, get our act together, get a stable line-up and we'll go all the way', and he was right!"
Ó'Lionáird says he had a feeling when they were in the studio recording Volume One: Sound Magic that something good was happening. "There was a kind of care, attention to detail, a richness to what the music content was compared to other things I'd been involved in. There was a quality to what we were putting down. It was all really heart music; it wasn't head music. It was kind of magical. I wasn't in awe of being in the studio — I'd been in studios before. It was more to do with the actual music. There were all these guys playing really exotic instruments. It was really fascinating. There was a kind of coherence, a lightness as well. It wasn't turgid. Whatever preparation Martin [Russell] and Simon [Emmerson] had made, it was very inspiring to sing off and play off. But there was no real talk of us doing shows. We weren't a band. There were no expectations. But when people started hearing the record, they started going 'who are these guys?'. Then the Whirlygig happened and we did a WOMAD in Spain. Mind you, we hadn't a clue what we were doing."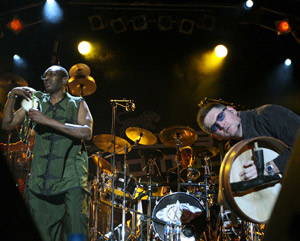 Emmerson recalls the band's live debut at WOMAD the same year with similar clarity, even though it was 15 years ago. "Martin Russell, who does our sound, still refers to the Whirlygig concert as one of the most chaotic gigs he's ever done. We had all kinds of people on stage. It was quite bizarre, bonkers really. I also remember when James McNally did his bodhran solo there was just this clatter of djembes coming out of the audience 'cos in those days everybody brought a djembe along. You were there in '95. That was the inception of the band. We were born really on stage and our career has been intimately tied up with the history of WOMAD. When we came to Australia in '97 for WOMADelaide we consolidated the idea, then we returned four years later."
The first time the Afro Celts played WOMADelaide, Joe Bruce, the band's inaugural keyboard player (whose father Jack was in the legendary rock trio Cream), was still alive. He died eight months later. Johnny Kalsi, a current member, wasn't in the band, but he was there, playing with Fundamental. "It was unbelievably hot," Emmerson recalls. "I was trying to DJ and the vinyl was sticking to the turntables. But it was extraordinary, a turning point in our career. I think that was when we realised that we could play these international stages and that we were making music that could travel the world and set festivals alight. I remember Joe when we were doing 'Whirl-Y-Reel' just kind of dancing around the stage with incredible abandon. When we came back in 2001, we were a bigger band. What I do remember about that year was that we were on stage and James McNally was monitoring the sound when something happened and he had this massive amount of feedback and it did his ears in, and he couldn't do the second set. But it still went off."
When they decided to make a comeback last year, after a three-year hiatus, naturally the English WOMAD was one of their first ports of call. "It was an amazing homecoming crowd — it was quite extraordinary," says Emmerson. "There was so much love from that audience, but it wasn't simply idolatry fan worship. The whole tent was full. At one point I looked out and there was this massive line of people conga-ing around the side. It was great; a fantastic moment for us, and further evidence that WOMADs are very important and special for us."
When they reconvened after their lengthy lay-off, the Afro Celts spent three or four days rehearsing, which, in a dental allusion, Emmerson describes as being like root canal work. "It was just awful. We were sitting there just kind of learning the parts and there was no vibe with it. Then we walked on stage at the beginning of [the northern] summer at a rock festival. Van Morrison was playing the main stage and I heard him come on 20 minutes before us and play 'Brown Eyed Girl' and there was this huge roar from the crowd, and I thought, oh god there's gonna be ten hippies and a dog for our gig. But we went out there, and it was completely dark, and a huge roar went up. We started playing and the audience, which must have been 30 or 40 per cent 20-year-olds who wouldn't have seen the Afro Celts when we started, were really getting into it. It was great. We were back. It was like we'd never had the break."
Ó'Lionáird endorses what the band's leader says. "Every place we played just took off and people went mad. It was a great craic, and that's the honest truth. Our music makes people jump, and it makes people happy. WOMAD was just amazing. We had some good gigs in Europe too. It was fabulous to come back."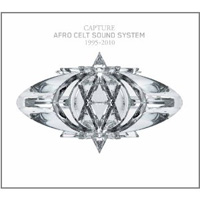 Their sets on the Australian tour in March, WOMADelaide included, were peppered with songs from their back catalogue, as featured on their double-CD comeback anthology Capture. "People have been turning up to gigs and saying that it all sounds totally different to the record," Emmerson reports. "We're doing mixes and medleys and changing bits and reinterpreting. It sounds fresh," Ó'Lionáird also expresses his satisfaction with the selection on Capture. "Look, there's lots of stuff that isn't in there and everyone of us realise that. But it was more a question of trying to get the balance right. I think the guys [co-compilers James McNally and Martin Russell] did a great job."
Neither Emmerson nor Ó'Lionáird were idle during the Afro Celts' downtime. As the latter explains: "What happens when you're in a band like the Afro Celts is that all the side projects that you're trying to develop you can't and it can get very frustrating." Ó'Lionáird recorded another solo record for Real World during the band's sabbatical and has spent the last couple of years doing new classical music.
Emmerson took advantage of the hiatus to explore his own roots as an English musician, "to look into the relationship between what we were doing in terms of post-dance music, post electronica, and working with trad English musicians like Martin and Eliza Carthy. That was something I always wanted to do, so I made the Imagined Village album and it became very successful, although it hasn't travelled as well as the Afro Celts. With the Afro Celts, we built up an international following. The Imagined Village and the Afro Celts are completely different in the way we compose."
While the first two Afro Celt albums were very much Emmerson's concept, he says it has become a four-way writing process, and quite often five, six or seven ways. "For me, the key is to try and capture on record the energy of our live show, which we haven't done. A lot of people have been coming to our live shows and almost not recognising the old material because it's so much more dynamic and fresh," says Emmerson, who plays a 10-string cittern through a pedal on stage, giving the instrument the sound of a keyboard.
There are many different strands in the Afro Celts' sonic tapestry. One critic described their sound as a "global village gone wild". At the risk of stating the obvious, Ó'Lionáird says: "It's been interesting because we've been able to use our platform, if you like, to incorporate lots of different colours from all over the world. People typify us as having a relationship with African and Irish music and that's true, of course, but we've had lots of other influences as well, from Spanish guitar to rock, to club, to Indian and Arabian music. It's been interesting that we've been able to incorporate all these expressions fairly effortlessly in some ways."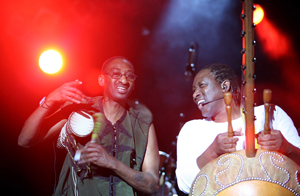 In the Afro Celts, Ó'Lionáird's dulcet tones blend quite beautifully with Guinean kora player N'Faly Kouyate's vocal strains. "It's great being on stage with him. He's got enormous charisma and there's a kind of sanctity to his voice. He carries everything from his village, you know. He's a griot and there's a kind of magic quality to his voice. It's a beautifully light, transparent delicate voice. I think I didn't initially make the connection with Africa because I was largely known for singing very slow songs, so I was more drawn to the more meditative Asian singing. But the minute I encountered it I found it surprisingly easy to connect with. Africans are so musical; they can make music with so little. They keep everything on the surface very simple — a bit like Irish music — but between the notes there's lots of stuff going on."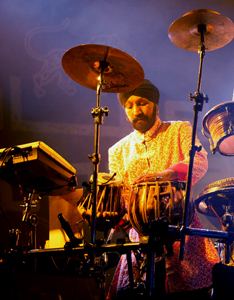 Ó'Lionáird says Anglo-Indian dhol drummer Johnny Kalsi is equally integral to the band. "We couldn't work without him either. He's a brilliant musician. He's one of the most amazing musicians I've ever stood on stage with. He's like a cat. No matter what happens to cats they always land on their feet, and Johnny's like that on stage. He's got this incredible traction. He knows exactly what's going on. He's eyeing you; he's eyeing the audience. His relationship with his instrument is so subtle and yet it's really powerful. I've never witnessed him having a bad gig." The lead singer is similarly effusive in praise of his uilleann pipes-playing bandmate and compatriot Emer Mayock: "I wouldn't go on the road without her. She's a wonderful player and really deep person and a real artist. We also have a young drummer now — Ian Markin, a fabulous player. He plays a hybrid kit. And we still have Moussa Sissokho, who's a great Senegalese-born talking drum player. The chemistry between him and N'Faly is amazing."
The Afro Celts have kept company with some celebrated musicians outside of the core group on their albums over the years — Sinead O'Connor, Peter Gabriel, Robert Plant and Jah Wobble, to name but a few. "There's always a hit list," observes Ó'Lionáird, though he's tight lipped about revealing future collaborators. A surprising amount of the band's music pops up as backdrops to advertisements or as part of movie scores, in award-winning films such as Gangs of New York and Hotel Rwanda. "Loads of people have come to the Afro Celts through our soundtracks," Simon Emmerson confirms. "It's very cinematic music. When we sit down and write it's often with filmic concepts. We're working on new material at the moment."
Recordings available:
• The above interview first appeared in Rhythms, Australia's only dedicated roots music magazine, for which the author is World/Folk correspondent.
Author:
Tony Hillier
Tony Hillier is based in Cairns in far north Queensland, from where he has been actively involved in all areas of the music industry in Australia for the past 25 years, primarily as a journalist, writing for national publications such as the Weekend Australian and Rhythms magazine (for which he is World Music & Folk correspondent), and performing locally, nationally and internationally with the bands Kamerunga and Snake Gully. He has also presented and produced World Music and Folk music programs for ABC Far North, Port Douglas Radio and 4CCR-FM, netting a CBAA Best Specialist Music Program Award with the last-named for a documentary on flamenco. Before coming to Australia, he was a racing journalist of some repute in the UK, where he wrote a column for the London Evening Standard under the nom-de-plume of Ajax.