World Music record label Putumayo announced the launch of the Putumayo World Beat series with the forthcoming albums African Beat and Latin Beat, to be released on August 30th. The series follows in the footsteps of Putumayo's popular Groove series in its exploration of world music blended with contemporary styles such as hip-hop, soul, R&B, electronica and more.
The World Beat series continues Putumayo's exploration of diverse multicultural sounds, with rising stars of African and Latin music taking center stage.
On African Beat, Putumayo features artists who are as likely to have traditional African drumming, soukous and mbaqanga on their iPods as they are the latest European dubstep and US hip-hop. These tracks reveal that even in this globalized, hi-tech world, the divide between the past and the future is not as great as it may seem.
Songs by musicians with deep connections to their roots, including Vieux Farka Touré and Les Barons, are remixed and reworked by Western DJs. The music of South Africa's Busi Mhlongo, Senegal's Lëk Sèn and Malian/French group Donso reveals how hip-hop, electronica and other urban musical styles have been incorporated into traditional African music, taking it in surprising new directions.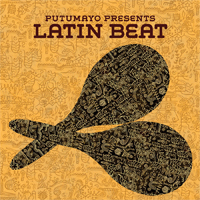 On Latin Beat, the label explores funky new blends of Latin music, in which electronic beats, hip-hop flavors, DJ remixes and cutting-edge grooves are fused effortlessly with Colombian cumbia, Cuban son, Mexican banda, Spanish flamenco, Afro-Peruvian roots music and more.
Cuban band Moneda Dura adds the voice of Buena Vista Social Club legend Ibrahim Ferrer to a catchy breakbeat sound. Colombians Jontre and Mariposa Solar demonstrate how effortlessly groundbreaking Latin musicians are using traditional rhythms in a contemporary pop context. Spain's Digitano takes Gypsy flamenco instrumentation and layers on electronic effects.
Author:
World Music Central News Department
World music news from the editors at World Music Central