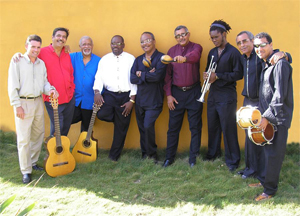 Legendary Cuban band Sierra Maestra is scheduled to perform on Friday, March 23, 8pm at the Great Hall Dance Party on Friday, March 23, 2012, at 8:00 pm.
Sierra Maestra has played a hugely significant part in the global explosion in popularity of Cuban music. Indeed, their ex-leader, Juan De Marcos González was the man who created Buena Vista Social Club, which included four members of Sierra Maestra.
The band has been leading the Cuban music scene ever since the late 1970s. They were the first group of the modern era to play in the old-style son line-up, which includes tres, guitar, trumpet, bongo, güiro and vocals, just like in the great days of the 1920s and '30s. They have been the pioneers in reviving, and now redefining this style for new generations and reintroducing it into the Cuban mainstream. Named after the mountain range in the eastern part of Cuba, the birthplace of son, Sierra Maestra remain the best in that genre and was nominated for a 2010 Latin Grammy.
Their hugely infectious dance music has wowed audiences at clubs and festivals and around the world and they never fail to get crowds up on their feet and dancing. Performing in Great Hall, their show there will be a dance party too.
Ticket Prices:
General Public: $26
Reduced Prices for Union Members & UW-Madison Faculty/Staff
UW-Madison Students: $10
Author:
World Music Central News Department
World music news from the editors at World Music Central