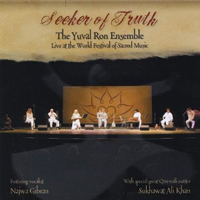 Yuval Ron Ensemble
Seeker of Truth: The Yuval Ron Ensemble Live at the World Festival of Sacred Music (Yuval Ron Music, 2011)
Recorded live at the World Festival of Sacred Music 2008, this CD is simply spectacular. Sweetly soaked in the Sufi traditions of Turkey and Pakistan with dashes of traditional Iraqi Jewish song, traditional Moorish song and contemporary compositions, the Yuval Ron Ensemble unearths the meditative and contemplative on Seeker of Truth. Dripping with harmonium, duduk, kanun, dumbek, riqq, clarinet and some truly extraordinary vocals, Seeker of Truth is artfully elegant and masterfully wrought.
Intended as "a pioneering endeavor in bribing together the Middle Eastern and South Asian vocal and musical traditions," the Yuval Ron Ensemble triumphs from the opening "La Ilaha Illah Lah" through to the beauty of "Nour El Kadhar" to the exoticism of "Erev Shel Shoshanim/Shalom-Salam" with music by Yosef Hadar through to the inexpressibly lovely "Lama Bada." Of course, how could you possibly go wrong with the extraordinary vocals by Arabic singer Najwa Gilbran or special guest Pakistani qawwali master Sukhawat Ali Khan?
Fans will know the Yuval Ron Ensemble from Under the Olive Tree and Tree of Life. Now the really good news is that there is a feature length film of Seeker of Truth, directed by Mischa Hedges out on DVD with concert footage from the concert. This is certainly worth a look as the group has as a part of the concert a performance by the whirling dervish Aziz.
Buy the album or MP3 downloads:
Author:
TJ Nelson
TJ Nelson is a regular CD reviewer and editor at World Music Central. She is also a fiction writer. Check out her latest book, Chasing Athena's Shadow.
Set in Pineboro, North Carolina, Chasing Athena's Shadow follows the adventures of Grace, an adult literacy teacher, as she seeks to solve a long forgotten family mystery. Her charmingly dysfunctional family is of little help in her quest. Along with her best friends, an attractive Mexican teacher and an amiable gay chef, Grace must find the one fading memory that holds the key to why Grace's great-grandmother, Athena, shot her husband on the courthouse steps in 1931.
Traversing the line between the Old South and New South, Grace will have to dig into the past to uncover Athena's true crime.