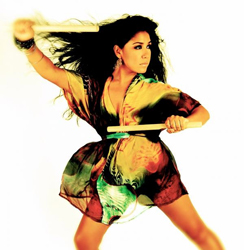 Beat the Drum will celebrate the universal power of the drum at the Craft and Folk Art Museum in Los Angeles on On July 10, 2011. Beat the Drum will present a blend of traditional and contemporary expressions on the drum, drawing on cultures from Latin America, Africa, Asia and in between. Three groups will showcase their distinctive approaches to percussion, with singing and dancing woven throughout the evening: Cava, Atabey, and Cihuatl-CE and the Huehueteros.
Although the human heart beats with one cadence, seemingly all cultures have a unique rhythmic tradition. Beat the Drum showcases drumming as a means of honoring the cross cultural characteristics of life in Los Angeles. Performances will highlight the cultural fusion of LA as well as the traditional art forms of various global traditions
Beat the Drum is also about simply delighting in the drum as a powerful emotional instrument, especially as a communal experience. Beat the Drum welcomes Angelenos from all over the city to build common ground.
"The Craft and Folk Art Museum is well known for uniting the community through its legendary Festival of Masks that ran from the 1970s – 1990s," shares CAFAM Executive Director, Suzanne Isken. She continues, "Beat the Drum contemporizes the museum's goal of uniting the community by celebrating our cultural fusion, which seems as relevant now as did the celebration of our city's diversity in the 1990s. We hope this performance becomes an annual gathering."
Following the performances audience members will be able to join in with their own drum or percussion instrument for a large-scale community drum circle. The audience will also have the opportunity to make simple percussion instruments at the program. The Craft and Folk Art Museum will provide supplies.
Performances by:
Cava blends traditional Son, Cumbia, Ska, Salsa and Funk. The ensemble features Walter Miranda on piano, electric-keyboards and bass, Alfredo Ortiz on drums and timbales, Shaunte Palmer on trombone, and Cava (Claudia Gonzalez-Tenorio) at the helm with percussion and lead vocals (pictured above).
Atabey represents a continuous struggle of Afro-Boricua (Puerto Rican) people to maintain and promote their culture through drumming, dance and song. They incorporate bomba music, a tradition that was brought to Puerto Rico from Africa by the slaves who worked in sugar cane plantations.
Cihuatl-CE and the Huehueteros, led by Joshua Duron, moves beyond a traditional hip-hop beat, fusing Afro-Caribbean, Pan-Latin sounds, Latin-Jazz textures and aesthetics with hip-hop and spoken word. Their instrumentation includes congas, timbales, shekere, clave, buddah bells, and a traditional drum set.
Artistic Direction: Tricia Ward
Tricia Ward has created various forms of collective public art as a catalytic force for over 30 years in places as diverse as New York City, Houston, Detroit and Los Angeles. Through integration of life's disciplines, the organic, responsive and traditional art forms manifest in a site-specific process. In 1992 Ward founded La Tierra de la Culebra, a one acre community youth artpark, encompassing a 500 foot long serpentine sculptural centerpiece that includes an amphitheatre, Ziggurat and pond, fruit trees and terraced gardens.
In Los Angeles' overcrowded inner city, the Culebra provides daily activity as well as a place for visits and repose among intergenerational community members. The artpark was created as part of ARTScorpsLA, now ACLA…art…community…land…activism, which created additional community specific sites: Spiraling Orchard in Temple Beaudry, Studio Chinatown and Francis Avenue Gardens in Koreatown. Seasonal celebrations have been an interdisciplinary offering at the sites since they were developed.
Origins of Beat the Drum
Tricia Ward conceived of a Drum Festival ten years ago as a celebration of universal traditions of the drum. It was called HEARTBEATS of the 4 Continents, as all drums speak to the body, linking the heart with the rhythmic order of all heartbeats. In 2011 Los Angeles has become a place of transnational cultural diaspora. We are the 4 continents. For Beat the Drum, the groups were chosen to represent this diaspora, combining many references to traditional practice while forming a new artful and universal fusion to represent Los Angeles. With the knowledge, guidance and assistance of Joshua Duron and Soraya Medina, this celebration was contemporaneously informed by their generation and relationship to the music world of LA.
Sunday, July 10, 2011 | 6:00 pm – 8:30 pm
Craft and Folk Art Museum 5814 Wilshire Blvd., Los Angeles CA 90036
Metered and free parking is available on surrounding streets.
Admission is free
RSVP is requested at RSVP@cafam.org or 323.937.4230 x50.
For more info: www.cafam.org /tel. 323.937.4230
Author:
World Music Central News Department
World music news from the editors at World Music Central