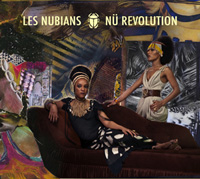 Les Nubians – Nü Revolution (Shanachie, 2011)
Malika Zarra – Berber Taxi (Motema Music MTM-60, 2011)
There's a lot of Africa in both of these discs, although one is by two sisters from France and the other by a Moroccan woman who's been living in New York City for the past 7 years. Not coincidentally, there are musical influences from beyond African borders to be heard as well.
Helene and Celia Fussart, the Franco-Cameroonian siblings known as Les Nubians, begin Nü Revolution, their third album, with 2 minutes and 45 seconds of pure African percussion, leaving no doubt as to where their roots are the strongest. But before long that African vibe is being channeled through a charming, danceable collection of songs that work R & B, hip hop, soul, funk and even the makossa style of Manu Dibango into the mix.
The Fussart sisters cover subjects ranging from the cultural identity of hairstyles to the state of the world ("changing for the better as things seem to go worse" they sing pointedly on the title track), balancing fun, seriousness, matters of the heart and unpredictably intriguing musical textures on their latest work. Don't start the revolution without them.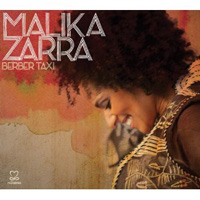 Eclectic on a different level is Malika Zarra, a native of Morocco whose love for jazz was fueled by visits to American shores that began in 1996 and ended with her taking up permanent residence in New York in 2004. The jazz angle is keenly evident on Berber Taxi, though the CD doesn't lack North African rhythms or inspiration.
The title track, for example, grooves to a loping jazz/reggae rhythm interspersed with a melody that would sound right at home in the shadow of the Atlas Mountains. Zarra's French/Arabic/English vocals, sometimes multi-tracked, are whispery and sensual, prompting her backing band (comprised of musicians on oud, guitar, bass, keys and light percussion) to keep it subtle. The result is a warm, sparklingly low-key album that both jazz and global music lovers will embrace.
Buy Les Nubians' album on CD or MP3:
Buy Malika Zarra's album on CD or MP3:
Author:
Tom Orr
Tom Orr is a California-based writer whose talent and mental stability are of an equally questionable nature. His hobbies include ignoring trends, striking dramatic poses in front of his ever-tolerant wife and watching helplessly as his kids surpass him in all desirable traits.