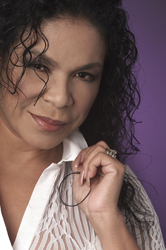 On June 26th, 2011, Berlin will see on the stage together for the first time: Afro-Peruvian star Eva Ayllón and the legendary Inti Illimani, who created "Venceremos", the anthem of Salvador Allende's Unidad Popular and became icons of the Nueva canción, the political folk song.
Eva Ayllon is one of the most important performers of Peruvian music. Born in 1956, she was initiated into the art of singing by her maternal grandmother at the age of three. Within a few years, she was singing at school, youth competitions and later on television and radio. In the early 1970s she began to appear in many of the local peñas (nightclubs), and began to define herself as one of the leading interpreters of Peru's musica criolla.
From 1973 to 1975 she sang as the lead voice in the poplar trio Lost Kipus, eventually leaving the group to pursue a solo career. By 1979, she began touring internationally, with appearances in Europe, the US, Canada and Japan. In 1989 she sang with Alex Acuña's Peruvian jazz band Los Hijos del Sol, sealing her status as a Peruvian national star. In the past decade she recorded two Grammy nominated CDs for Times Square Records: Eva! Leyenda Peruana (Eva! Peruvian Legend), and Kimba Fa.
Sunday, 26 June2011, 8:00 p.m
Haus der Kulturen der Welt
John-Foster-Dulles-Allee 10
Berlin
Author:
World Music Central News Department
World music news from the editors at World Music Central