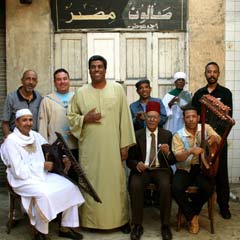 On 22 July, 2011, the Barbican is set to present A Night in Tahrir Square, a concert as part of Shubbak: A Window on Contemporary Arab Culture.
Shubbak: A Window on Contemporary Arab Culture will encompass over seventy events in more than thirty key cultural venues throughout London for three weeks from 4–24 July 2011, organized by the Mayor of London and sponsored by HSBC.
The concert in the Barbican Hall on 22 July focuses on people power in the Arab world with an exceptional line-up of artists who all played a central role in the recent Egyptian revolution. The concert is also part of Blaze, the Barbican's contemporary music festival.
Between 25 January and 11 February 2011, music and poetry played a crucial role in the Egyptian uprising. Singer-songwriter Ramy Essam went to join the protestors with his guitar as soon as the uprising started and became 'the Billy Bragg of Tahrir Square', performing countless times a day on makeshift stages and living down in the square for the entire revolution. His song 'Irhal' ('Leave') became the anthem of the revolt and a tremendous viral hit on the internet. Egypt's most famous street music ensemble El Tanbura, together with their founder Zakaria Ibrahim, were also Tahrir regulars with their percussion and simsimiyya-driven sound from Suez.
Another celebrated presence in the square was that of poet Ahmed Fouad Negm who has spent several years in Egyptian prisons for his outspoken and often bitingly comical poems and lyrics. Negm's former wife Azza Balba will come to the Barbican to perform his songs. The fourth artist of the concert is Mustafa Said, an Egyptian singer, composer and virtuoso of the oud, whose fiery performances during the revolution demonstrated his ability to combine refined instrumental skills and revolutionary passion to immense effect.
Fri 22 Jul, 7.30pm, Barbican Hall, Tickets £12.50/15/20/25
A Night in Tahrir Square
Featuring El Tanbura, Azza Balba, Mustafa Said & Ramy Essam
Produced by the Barbican
http://www.barbican.org.uk/blaze
http://www.london.gov.uk/shubbak
Blaze, the Barbican's summer contemporary music festival, returns in June and July 2011 with a thrilling range of events in the Barbican and across East London. Major international artists, commissions and new works mark this third Blaze festival that takes place at the Barbican, Hackney Empire, Gillett Square, Wilton's Music Hall, XOYO and Rich Mix. Part of the CREATE Festival, Blaze features new commissions and collaborations, artists and projects such as Hugh Masekela's tribute to Mama Afrika, Ludovico Einaudi's Taranta! (as part of a weekend exploring Mediterranean music and culture), Gregg Allman, Sharon Jones & The Dap-Kings, Band of Gypsies (Taraf de Haïdouks & Kocani Orkestar), Esperanza Spalding, Congotronics vs Rockers, and a stellar cast of singers and musicians who revisit Tom Waits' classic album Rain Dogs. Blaze also features a feast of free music with visits to Gillett Square, Shoreditch Festival and Canary Wharf – plus the Barbican FreeStage which will be in action throughout the summer. For more information visit www.barbican.org.uk
Box Office: 0845 120 7550
www.barbican.org.uk/blaze
Barbican Centre
Silk Street
London
EC2Y 8DS
Author:
World Music Central News Department
World music news from the editors at World Music Central