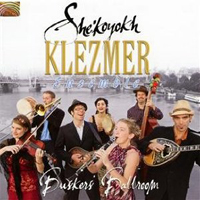 Buskers' Ballroom is the second album from London's acclaimed She'koyokh Klezmer Ensemble. She'koyokh chose to name the album Buskers' Ballroom to reflect the diversity of venues in which they perform, which range from some of the world's most prestigious concert venues to the streets of London.
"Street performing is an important part of the life of the band, a way to bond as a group, and share our passion for the music with whoever passes by", explains violinist Meg Hamilton. This philosophy has inspired the band to take their music to the streets all across the world, from the roof of a bus after performing at the prestigious Duisberg festival in Germany, to the shores of the Isle of Iona, and a hippie market in San Francisco Bay."We never miss an opportunity to busk in every city we visit",adds Meg.
Buskers' Ballroom follows the band's debut, the acclaimed Sandanski's Chicken.
"Sandanski's Chicken was our first studio album and we wanted to record all our favourite tunes at the time, which were a mixture of instrumental klezmer and Balkan tunes" says Meg. "For Buskers' Ballroom we wanted to create something more original. The majority of material is from a klezmer or Jewish source which we've adapted to blend with other Eastern European and Balkan styles."
This approach is perhaps most obviously displayed in Üsküdar, a song which introduces She'koyokh's new singer, Çigdem Aslan from Istanbul. Meg explains, "this melody is shared by all people in the Balkans, including the Jewish community who took it to New York in the early nineteenth century and called it Terk in America".
The song features an arrangement inspired by Rebetiko (Greek), Turkish, Arabic, Jewish and Balkan versions of this melody, and is sung in both Greek and Turkish. Buskers' Ballroom is dedicated to the memory of Jim Markovitch, She'koyokh's charismatic founder accordionist, who passed away shortly before the recording of the album.
"Jim inspired musicians and audiences by the way he lived every minute of his life to the full, especially through music" says Meg. The band managed to make it the studio to record some of Jim's favourite tunes a week before he died: 'Jim's Favourite' is a poignant finale to the album and played by Jim so beautifully, it embodies the melancholic, expressive side of klezmer often forgotten these days in its role as a party music.
Buy the album or MP3 downloads and listen to samples:
Author:
World Music Central News Department
World music news from the editors at World Music Central