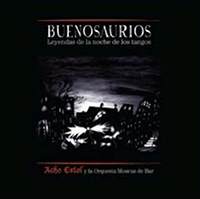 Acho Estol – Buenosaurios: Leyendas de la Noche de los Tangos (Galileo Music GMC 034, 2010)
Dolores Sola – Salto Mortal (Ojo Records OJO004, 2010)
Like any style of music known internationally, tango is evolving. As to whether or not it's for the better, well, let the purists and progressives battle it out. And while they're at it, they can decide who truly ought to be included in the category and who ought not.
Acho Estol would be a good starting point for such a debate. The liner notes to this CD call him "one of contemporary tango's street poets," but the music goes well beyond what most people would assume tango should sound like. That's understandable, given Estol's desire to present tango as both nostalgic and of the moment, as both dark and lighthearted, as both a paean to Argentina's artistic past and a road map toward its future.
The tracks contain plenty of the distinct tempos that make tango one of the earth's great dancing pleasures, but just as many nods to Afro-Cuban music, European cabaret, flamenco, Latin rock, samba and narratives populated with odd characters and poignant moments. Some of it sounds a bit sinister, as tango has sometimes been thought to be throughout its history. Still, Estol's musical tales tend to have an underlying sense of fun (with lyrics referencing everything from Norman Mailer to Led Zeppelin) that neither the darker moments nor the nocturnal motifs of the CD packaging -even the playing surface of the disc is black- banish entirely.
Estol plays about a dozen instruments and sings with a serious eccentricity that makes Leyendas de la Noche de los Tangos ("Legends of a Night Lost in Tango") a strange and beautiful album that will have the dancers dipping with delight and all within earshot listening intently. (www.galileo-mc.com)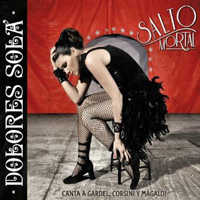 Dolores Sola's Salto Mortal includes a good measure of instrumental and production assistance from Acho Estol, not surprising since Estol and Sola are united by both marriage and ongoing musical collaboration. And like Estol's latest, Salto Mortal is not a tango-only affair.
Cancion, fox trot, pasodoble and even fado songs elegantly fit in amongst the tango selections, and Sola expertly sings them all in an enticing, imploring voice. Where Estol's album intrigues by mixing tango's mystique with other sorts of music, Sola's seduces by bringing that same mystique to styles that share tango's heartfelt passion, drama and humor. Very nicely done.
Buy the albums or MP3 downloads:
Author:
Tom Orr
Tom Orr is a California-based writer whose talent and mental stability are of an equally questionable nature. His hobbies include ignoring trends, striking dramatic poses in front of his ever-tolerant wife and watching helplessly as his kids surpass him in all desirable traits.