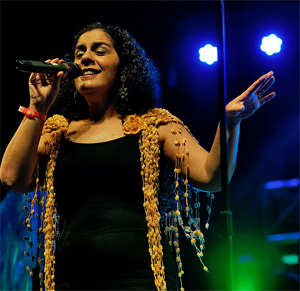 The four-day Borneo Jazz Festival in Malaysia concluded in fine style with a smooth Brazilian set by Ray Piper and Brazilada. Guitarist Ray Piper led a tight quintet of musicians from Canada and Australia, who have been playing together for almost 30 years.
The quintet also brought on stage Brazilian vocalist Fernanda Cunha, who performed on Day Two of the festival as well. Their concluding set in an indoors venue came across much better than their outdoors performance. The group played original compositions as well as covers by Brazilian composers Johnny Alf, Djavan, Haroldo Barbosa, Joao Bosco and Mauricio Einhorn. Nothing compares to the sound of smooth Brazilian groove on a tropical afternoon, whether in South America or Southeast Asia!
I had a nice chat with Cunha and Piper after their performance. Their music has been sometimes described as world music and other times as jazz. "If more Brazilian instruments are used, the music tends to be described as world music, but the structure and level improvisation will determine whether it will be called jazz," they joked.
"We don't play the song 'Girl from Ipanema,' in Brazil," added Cunha. She has been collaborating with Piper on their recent CDs; Piper shuttles regularly between Canada, Australia and Brazil. Cunha performs regularly at jazz festivals in Buenos Aires, Vienna and Vancouver (it was the Vancouver Jazz Festival director who introduced her to Piper). Ironically, Brazil big festivals focus mostly on rock and pop music and not as much on jazz and bossa nova (an emerging opportunity for Brazilian tourism and cultural event managers?!).
Festival director Randy Raine Reusch said jazz is like a garden with flowers in different areas growing with different fertilizers, and this leads to variations (eg. with cultural influences from India, Brazil, China) – but they are all in the same garden of jazz. Randy also curates the Rainforest World Music Festival in Kuching.
We look forward to seventh Borneo Jazz Festival in 2012 already! Follow the Twitter hashtag #BorneoJazz for live updates.
Author:
Madanmohan Rao
Madanmohan Rao is an author and media consultant from Bangalore, and global correspondent for world music and jazz for World Music Central and Jazzuality. He has written over 15 books on media, management and culture, and is research director for YourStory Media. Madan was formerly World Music Editor at Rave magazine and RJ at WorldSpace, and can be followed on Twitter at @MadanRao.